Safety Instructions & Limited Warranty
Important Safety and Product Information
CAUTION: The device may cause skin irritation.
Prolonged contact may contribute to skin irritation or allergies in some users. If you notice any signs of skin redness, swelling, itchiness or other skin irritation, please discontinue use or wear the product clipped over a piece of clothing. Continued use, even after symptoms subside, may result in renewed or increased irritation. If symptoms persist, consult your doctor.
Please follow these care and wearing tips:
Clean and dry your Fitbit product regularly, particularly in areas in contact with the skin. Use a clean, damp cloth. Do not wash product under the faucet.
Wear your Fitbit product loosely enough to allow air circulation. Review the sizing guide at fitbit.com for more information.
Use skin care products sparingly on the areas of the skin covered by your Fitbit product.
Take the product off from time to time to clean it and allow for your skin to be uncovered.
The device contains electrical equipment that could cause injury if not handled properly.
Do not open the enclosure or disassemble your Fitbit product.
Do not use your Fitbit product if the display is cracked.
Substances in this product and its battery may harm the environment or cause injury if handled and disposed of improperly.
Do not place your Fitbit product in a dishwasher, washing machine or dryer.
Do not expose your Fitbit product to extremely high or low temperatures.
Do not use your Fitbit product in a sauna or steam room.
Do not leave your Fitbit product in direct sunlight for an extended period of time.
Do not dispose of your Fitbit product in a fire. The battery could explode.
Do not use abrasive cleaners to clean your Fitbit product.
Charge the battery in accordance with the instructions provided during setup.*
Charge your Fitbit product using a computer, powered hub or power supply that is certified by a recognized testing laboratory.*
Your Fitbit product features a built-in battery, which is not user replaceable. Tampering with your product, or attempt to open it will void warranty and can result in a safety hazard.*
Use only an authorized Fitbit charging cable to charge the battery.*
Do not wear your Fitbit product while charging it.*
Do not charge your Fitbit product while it is wet.
Remove your Fitbit product if it feels warm or hot.
* This does not apply to Fitbit Zip, which has a replaceable battery. Do not attempt to recharge your Zip.
CAUTION: Consult your doctor before beginning or modifying any exercise program.
CAUTION: Consult your doctor before use if you have any preexisting conditions that might be affected by your use of this Fitbit product.
CAUTION: Do not check call notifications or other data on the product's display while driving or in other situations where distractions could be hazardous.
CAUTION: This product is not a toy. Do not allow children or pets to play with your Fitbit product. The product contains small components that can be a choking hazard.
This product is not a medical device, and is not intended to diagnose, treat, cure, or prevent any disease.
Maps, directions, and other GPS or navigation data, including data relating to your current location, may be unavailable, inaccurate or incomplete.
Before getting your Fitbit product wet, please refer to fitbit.com for specific information regarding water resistance.
Special notice for devices with PurePulse™ Technology: PurePulse products have a heart rate tracking feature that may pose risks to users with certain health conditions.
Consult your doctor prior to use if you:

have a medical or heart condition.
are taking any photosensitive medicine.
have epilepsy or are sensitive to flashing lights.
have reduced circulation or bruise easily.

The heart rate tracking feature works best when the product is worn snugly.

Wearing the device snugly can lead to skin irritation due to rubbing and friction. Remove the device periodically to allow your skin to dry and breathe.
If you have tendonitis, carpal tunnel syndrome, or other musculoskeletal disorders, consult your doctor prior to use. If you feel soreness, tingling, numbness, burning or stiffness in your hands or wrists while or after wearing the product, please discontinue use.
Regulatory Notices
Federal Communications Commission (FCC) Statement
This device complies with FCC part 15 FCC Rules. Operation is subject to the following two conditions:
This device may not cause harmful interference, and
This device must accept any interference, including interference that may cause undesired operation of the device.
FCC Warning
Changes or modifications not expressly approved by Fitbit, Inc. could void the user's authority to operate the equipment. Note: This equipment has been tested and found to comply with the limits for a Class B digital device, pursuant to part 15 of the FCC Rules. These limits are designed to provide reasonable protection against harmful interference in a residential installation. This equipment generates, uses and can radiate radio frequency energy and, if not installed and used in accordance with the instructions, may cause harmful interference to radio communications. However, there is no guarantee that interference will not occur in a particular installation. If this equipment does cause harmful interference to radio or television reception, which can be determined by turning the equipment off and on, the user is encouraged to try to correct the interference by one or more of the following measures:
Reorient or relocate the receiving antenna.
Increase the separation between the equipment and receiver.
Connect the equipment into an outlet on a circuit different from that to which the receiver is connected.
Consult the dealer or an experienced radio/TV technician for help.
This device meets the FCC and IC requirements for RF exposure in public or uncontrolled environments.
Industry Canada (IC) Statement
This device complies with part 15 of the FCC Rules and Industry Canada license exempt RSS standard(s).
Operation is subject to the following two conditions:
This device may not cause harmful interference, and
This device must accept any interference, including interference that may cause undesired operation of the device.
This Class B digital apparatus complies with CAN ICES-3 (B)/NMB-3(B).
Declaration of Conformity with Regard to the EU Directive 1999/5/EC.
Fitbit Inc. is authorized to apply the CE Mark on its product, thereby declaring conformity to the essential requirements and other relevant provisions of Directive 1999/5/EC and other applicable Directives. The complete Declaration of Conformity can be found in the specific product section at fitbit.com/safety.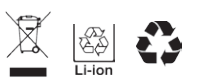 Disposal and Recycling Information.
The symbol on the product or its packaging signifies that this product has to be disposed separately from ordinary household wastes at its end of life. Please kindly be aware that it is your responsibility to dispose electronic equipment at recycling centers so as to help conserve natural resources. Each country in the European Union should have its collection centers for electrical and electronic equipment recycling. For information about your recycling drop off point, please contact your local related electrical and electronic equipment waste management authority or the retailer where you bought the product.
Do not dispose of your Fitbit product with household waste
Disposal of the packaging and your Fitbit product should be done in accordance with local regulations.
Batteries are not to be disposed of in municipal waste stream and require separate collection.
Please recycle! For additional information on disposal and recycling, including contact details of a distributor in your region, please visit help.fitbit.com
Limited Product Warranty
Fitbit, Inc. ("Fitbit") warrants to the original purchaser that your Fitbit electronic device (the "Product") shall be free from defects in materials and workmanship under normal use for a period of one (1) year from the date of purchase, except that if you reside in the European Economic Area (EEA) and you purchased your Fitbit product in the EEA, the warranty period is two (2) years from the date of purchase (the "Warranty Period"). Fitbit does not warrant that the operation of the Product will be uninterrupted or error-free. Fitbit is not responsible for damage arising from failure to follow instructions relating to the Product's use. This Limited Warranty does not cover software embedded in the Product and the services provided by Fitbit to owners of the Product. Refer to the license agreement accompanying the software and the Fitbit services terms of use for details of your rights with respect to their use.
Remedies.
If a hardware defect arises and a valid claim is received by Fitbit within the Warranty Period, Fitbit will, at its option and to the extent permitted by law, either (1) repair the Product at no charge, using new or refurbished replacement parts or (2) replace the Product with a new or refurbished Product. In the event of a defect, to the extent permitted by law, these are your sole and exclusive remedies. Shipping and handling charges may apply except where prohibited by applicable law. This Limited Warranty is valid only in the jurisdictions where the Products are sold by Fitbit itself or through its authorized reseller or agent, and is valid to the extent permitted by the applicable laws of such jurisdictions. Any replacement hardware product will be warranted for the remainder of the original warranty period or thirty (30) days, whichever is longer, or for any additional period of time that may be applicable in your jurisdiction.
How to Obtain Warranty Service.
To obtain warranty service, you must deliver the Product, in either its original packaging or packaging providing an equal degree of protection, to the address specified by Fitbit. In accordance with applicable law, Fitbit may require that you furnish proof of purchase details and/or comply with registration requirements before receiving warranty service. It is your responsibility to backup any data, software, or other materials you may have stored or preserved on the Product. It is likely that such data, software, or other materials will be lost or reformatted during service, and Fitbit will not be responsible for any such damage or loss. For specific instructions on how to obtain warranty service on your Product, visit the Fitbit website (fitbit.com/help).
Exclusions and Limitations.
This Limited Warranty applies only to the Product manufactured by or for Fitbit that can be identified by the "Fitbit" trademark, trade name, or logo affixed to it. The Limited Warranty does not apply to any (a) Fitbit products and services other than the Product, (b) non-Fitbit hardware product, (c) consumables (such as batteries), or (d) software, even if packaged or sold with the Product or embedded in the Product. This warranty does not apply to a Product or part of the Product that has been altered or modified (e.g., to alter functionality or capability) by anyone who is not a representative of Fitbit or if the Product is inserted or installed in a casing not provided by Fitbit. In addition, this Limited Warranty does not apply: (a) to damage caused by use with non-Fitbit products; (b) to damage caused by accident, abuse, misuse, flood, fire, earthquake or other external causes; (c) to damage caused by operating the Product outside the permitted or intended uses described by Fitbit or with improper voltage or power supply; or (d) to damage caused by service (including upgrades and expansions) performed by anyone who is not a representative of Fitbit. Recovery and reinstallation of software programs and user data are not covered under this Limited Warranty. No Fitbit reseller, agent, or employee is authorized to make any modification, extension, or addition to this Limited Warranty. If any term is held to be illegal or unenforceable, the legality or enforceability of the remaining terms shall not be affected or impaired.
Implied Warranties.
EXCEPT TO THE EXTENT PROHIBITED BY APPLICABLE LAW, ALL IMPLIED WARRANTIES (INCLUDING WARRANTIES OF MERCHANTABILITY AND FITNESS FOR A PARTICULAR PURPOSE) SHALL BE LIMITED IN DURATION TO THE DURATION OF THIS LIMITED WARRANTY. Some jurisdictions do not allow limitations on the duration of an implied warranty, so the above limitation may not apply to you.
Limitation of Damages.
EXCEPT TO THE EXTENT PROHIBITED BY APPLICABLE LAW, FITBIT SHALL NOT BE LIABLE FOR ANY INCIDENTAL, INDIRECT, SPECIAL, OR CONSEQUENTIAL DAMAGES, INCLUDING BUT NOT LIMITED TO LOSS OF PROFITS, REVENUE OR DATA, RESULTING FROM ANY BREACH OF EXPRESS OR IMPLIED WARRANTY OR CONDITION, OR UNDER ANY OTHER LEGAL THEORY, EVEN IF FITBIT HAS BEEN ADVISED OF THE POSSIBILITY OF SUCH DAMAGES. Some jurisdictions do not allow the exclusion or limitation of special, indirect, incidental or consequential damages, so the above limitation or exclusion may not apply to you.
Governing Law.
This Limited Warranty shall be governed by the laws of the State of California, USA, without giving effect to any conflict of laws principles that may provide the application of the law of another jurisdiction.
National Statutory Rights.
Consumers in some jurisdictions may have legal rights under applicable national legislation governing the sale of consumer goods, including, without limitation, national laws implementing EC Directive 99/44. These rights are not affected by the warranties in this Limited Warranty.
---
Instructions de sécurité importantes
Cet appareil peut causer des irritations de la peau. Le contact prolongé peut contribuer à une irritation de la peau ou à des allergies chez certains utilisateurs. Si vous remarquez de quelconques signes de rougeurs cutanées, de gonflements, de démangeaisons ou autre irritation cutanée, veuillez cesser l'utilisation ou porter le produit par-dessus un vêtement. La poursuite de l'utilisation, même après la disparition des symptômes, peut entraîner un renouvellement ou une aggravation de l'irritation. Si les symptômes persistent, veuillez consulter votre médecin. Veuillez suivre les conseils de port et d'entretien suivants:
Nettoyez et séchez régulièrement votre produit Fitbit, particulièrement les parties qui sont en contact avec la peau. Utilisez un chiffon propre et humide. Ne lavez pas le produit sous le robinet.
Ne serrez pas trop votre produit Fitbit afin de permettre à l'air de circuler. Consultez le guide des tailles sur fitbit.com pour de plus amples informations.
Utilisez avec parcimonie les produits de soin de la peau sur les zones couvertes par votre produit Fitbit.
Retirez le produit de temps à autre pour le nettoyer et laisser votre peau à nu.
L'appareil contient des dispositifs électroniques qui peuvent causer des blessures en cas de mauvaise utilisation.
N'ouvrez pas le boîtier et ne démontez pas votre produit Fitbit.
N'utilisez pas votre produit Fitbit si l'affichage est fissuré.
Les substances contenues dans ce produit et ses batteries peuvent être néfastes pour l'environnement ou causer des blessures si elles sont manipulées et éliminées de manière inappropriée.
Ne placez pas votre produit Fitbit dans un lave-vaisselle, une machine à laver ou un sèche-linge.
N'exposez pas votre produit Fitbit à des températures extrêmes.
N'utilisez pas votre produit Fitbit dans un sauna ou un bain de vapeur.
Ne laissez pas votre produit Fitbit directement exposé à la lumière du soleil pendant une période prolongée.
Ne jetez pas votre produit Fitbit au feu. La batterie pourrait exploser.
N'utilisez pas de produits abrasifs pour nettoyer votre produit Fitbit.
Chargez la batterie conformément aux instructions fournies lors de l'installation.*
Chargez votre produit Fitbit en utilisant un ordinateur, un chargeur ou une source d'alimentation certifiée par un laboratoire d'essai reconnu.*
Votre produit Fitbit contient une batterie intégrée, qui n'est pas remplaçable par l'utilisateur. Le fait d'altérer votre produit, ou de tenter de l'ouvrir, entraînera l'annulation de la garantie et peut présenter des risques de sécurité.*
N'utilisez qu'un câble de chargement autorisé par Fitbit pour charger la batterie.*
Ne portez pas votre produit Fitbit lorsque vous le chargez.*
Ne chargez pas votre produit Fitbit lorsqu'il est mouillé.
Retirez votre produit Fitbit s'il est chaud.
* Ceci ne s'applique pas au Fitbit Zip, qui a une batterie remplaçable. Ne tentez pas de recharger votre Zip.
ATTENTION: consultez votre médecin avant de commencer ou de modifier un programme d'exercice physique.
ATTENTION: consultez votre médecin avant l'utilisation si vous avez des maladies préexistantes susceptibles d'être affectées par votre utilisation de ce produit Fitbit.
ATTENTION: ne vérifiez pas les notifications d'appel ou autres données sur l'affichage du produit lorsque vous conduisez, ou dans toute autre situation dans laquelle les distractions pourraient être dangereuses.
ATTENTION: ce produit n'est pas un jouet. Ne laissez pas les enfants ou les animaux domestiques jouer avec votre produit Fitbit. Le produit contient de petits éléments qui peuvent présenter un risque d'étouffement. Ce produit n'est pas un appareil médical, et n'est pas conçu pour diagnostiquer, traiter, soigner, ou prévenir une quelconque maladie. Les cartes, orientations, et autres données GPS ou données de navigation, y compris les données relatives à votre position actuelle, peuvent être indisponibles, inexactes ou incomplètes. Avant de mouiller votre produit Fitbit, veuillez consulter fitbit.com pour obtenir de plus amples informations sur la résistance à l'eau.
Avis spécial pour les appareils comportant la technologie PurePulse™: les produits PurePulse ont une fonction de suivi du rythme cardiaque qui peut présenter des risques pour certains utilisateurs ayant certains problèmes de santé.
Consultez votre médecin avant l'utilisation si:

vous avez une maladie cardiaque ou tout antécédent médical;
vous prenez des médicaments photosensibilisants;
vous souffrez de l'épilepsie ou êtes sensible aux flashs lumineux;
vous avez des problèmes de circulation sanguine ou si vous vous faites facilement des bleus.

La fonction de contrôle du rythme cardiaque fonctionne mieux lorsque le produit est confortablement serré.

Le fait de porter l'appareil confortablement serré peut entraîner des irritations cutanées dues aux frottements et à la friction. Retirez l'appareil périodiquement pour permettre à votre peau de sécher et de respirer.
Si vous avez une tendinite, un syndrome du canal carpien ou tout autre trouble musculo-squelettique, consultez votre médecin avant l'utilisation. Si vous sentez une douleur, des picotements, un engourdissement, une brûlure ou une raideur dans les mains ou les poignets pendant ou après le port du produit, veuillez en interrompre l'utilisation.
Conformité aux normes d'Industrie Canada
Cet appareil est conforme à la partie 15 de la réglementation de la FCC et aux Industrie Canada RSS standards exempts de licence (s). Son utilisation est soumise à Les deux conditions suivantes:
cet appareil ne peut pas provoquer d'interférences et
cet appareil doit accepter Toute interférence, y compris les interférences qui peuvent causer un mauvais fonctionnement du dispositive Cet appareil numérique de la classe B est conforme à la norme NMB-003 du Canada.
Déclaration de conformité concernant la directive 1999/5/EC de l'UE.
Fitbit Inc. est autorisé à apposer le marquage CE sur son produit, et donc d'en déclarer la conformité avec les exigences essentielles et les autres dispositions pertinentes de la Directive 1999/5/EC et des autres Directives qui s'appliquent. La déclaration complète de conformité est disponible dans la section spécifique du produit sur le site fitbit.com/safety.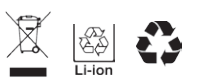 Le symbole sur le produit ou sur son emballage signifie que ce produit à la fin de sa vie doit être recyclé séparément des déchets ménagers ordinaires. Notez que ceci est votre responsabilité d'éliminer les équipements électroniques à des centres de recyclage afin d'aider à préserver les ressources naturelles. Chaque pays de l'Union européenne a ses centres de collecte et de recyclage pour le recyclage des équipments électriques et électroniques. Pour plus d'informations ou trouver un centre de recyclage, contactez votre commune ou le magasin ou vous avez acheté le produit.
Garantie limitée de produit
Fitbit, Inc. (« Fitbit ») garantit à l'acheteur original que vos appareils électroniques Fitbit (les « Produits ») seront dépourvus de défauts de pièces et de main d'œuvre en conditions normales d'utilisation pendant une période d'un (1) an à compter de la date d'achat, sauf si vous résidez dans l'Espace économique européen (EEE) et que vous avez acheté votre produit Fitbit dans l'EEE, la période de garantie étant alors de deux (2) ans à compter de la date d'achat (la « Période de garantie »). Fitbit ne garantit pas que le fonctionnement du Produit sera ininterrompu ou dépourvu d'erreurs. Fitbit n'est pas responsable des dommages imputables à une défaillance dans l'observation des instructions relatives à l'utilisation des Produits. Cette Garantie limitée ne couvre pas le logiciel intégré dans le Produit et les services fournis par Fitbit aux propriétaires du Produit. Consultez le contrat de licence qui accompagne le logiciel et les conditions d'utilisation des services de Fitbit pour connaître vos droits en ce qui concerne leur utilisation.
Recours.
Si un défaut de matériel est détecté et qu'une réclamation valide est reçue par Fitbit au cours de la Période de garantie, Fitbit s'engage, à son appréciation et dans la mesure autorisée par la loi, à (1) réparer le Produit gratuitement, en utilisant des pièces neuves ou remises à neuf, ou (2) à remplacer le Produit par un Produit neuf ou remis à neuf. En cas de défaut, dans la mesure autorisée par la loi, il s'agit des seuls recours dont vous disposez. Les frais d'expédition et de traitement peuvent s'appliquer s'ils ne sont pas interdits par la législation en vigueur. La présente Garantie limitée n'est valide quedans les juridictions dans lesquelles les Produits sont vendus par Fitbit même ou par un de ses revendeurs ou agents autorisés, et n'est valide que dans la mesure autorisée par la législation en vigueur dans lesdites juridictions. Tout remplacement d'un produit matériel sera garanti pendant le reste de la période de garantie originale, ou trente (30) jours, la durée la plus longue étant retenue, ou bien pendant toute période supplémentaire susceptible d'être imposée par la législation de votre juridiction.
Comment bénéficier du service de garantie.
Pour bénéficier du service de garantie, vous devez envoyer le Produit, dans son emballage d'origine ou dans un emballage offrant un niveau de protection équivalent, à l'adresse indiquée par Fitbit. Selon la législation en vigueur, Fitbit peut exiger que vous fournissiez un justificatif d'achat et/ou que vous vous soumettiez à des obligations d'enregistrement avant de pouvoir bénéficier du service de garantie. Vous avez la responsabilité de sauvegarder les données, logiciels ou autres matériaux susceptibles d'avoir été enregistrés ou conservés sur les Produits. Il est probable que ces données, logiciels ou autres matériaux soient perdus ou reformatés au cours du service, et Fitbit décline toute sponsabilité en cas de pertes ou de dommages. Pour obtenir des instructions particulières sur la manière d'obtenir un service de garantie pour votre Produit, consultez le site Internet de Fitbit (fitbit.com/help).
Exclusions et limitations.
La présente Garantie limitée s'applique uniquement au Produit fabriqué par ou pour Fitbit, identifié par la marque de commerce, le nom commercial ou le logo « Fitbit » qui lui est apposé. La Garantie limitée ne s'applique pas à de quelconques (a) produits ou services Fitbit autres que le Produit, (b) matériels non-Fitbit, (c) produits consommables (notamment les batteries), ou (d) logiciels, même s'ils sont conditionnés ou vendus avec le Produit ou intégrés dans le Produit. Cette garantie ne s'applique pas à un Produit ou à une partie de Produit qui a été altéré ou modifié (par ex. afin d'en altérer la fonctionnalité ou la capacité) par toute autre personne qu'un représentant de Fitbit, ou si le Produit est inséré ou installé dans un emplacement non fourni par Fitbit. En outre, la présente Garantie limitée ne s'applique pas : (a) aux dommages causés par l'utilisation de produits non-Fitbit ; (b) aux dommages causés par un accident, un détournement, une mauvaise utilisation, une inondation, un incendie, un séisme ou toute autre cause externe ; (c) aux dommages causés par le fonctionnement du Produit en dehors des usages autorisés ou prévus, décrits par Fitbit, ou une tension ou alimentation électrique inadaptée ; ou (d) aux dommages causés par la maintenance (y compris les mises à jour et extensions) effectuée par toute personne qui n'est pas un représentant de Fitbit. La récupération et la réinstallation des logiciels et des données de l'utilisateur ne sont pas couvertes par la présente Garantie limitée.Aucun revendeur, agent ou employé de Fitbit n'est autorisé à apporter une modification, une extension ou une addition à la présente Garantie limitée. Si une quelconque disposition est jugée illégale ou inapplicable, la légalité ou l'ap plicabilité des autres dispositions ne sera pas affectée ou entravée.
Garanties implicites.
SAUF DANS LA MESURE INTERDITE PAR LA LÉGISLATION EN VIGUEUR, TOUTES LES GARANTIES IMPLICITES (Y COMPRIS LES GARANTIES DE QUALITÉ MARCHANDE ET D'ADAPTATION À UN USAGE PARTICULIER) SERONT LIMITÉES DANS LE TEMPS À LA DURÉE DE LA PRÉSENTE GARANTIE LIMITÉE. Certaines juridictions n'autorisent pas les limitations de durée d'une garantie implicite; la limitation susmentionnée peut donc ne pas vous être applicable.
Plafond d'indemnisation.
SAUF DANS LA MESURE INTERDITE PAR LA LÉGISLATION EN VIGUEUR, FITBIT DÉCLINE TOUTE RESPONSABILITÉ POUR TOUT PRÉJUDICE ACCESSOIRE, INDIRECT, SPÉCIAL OU CONSÉCUTIF, Y COMPRIS, SANS S'Y RESTREINDRE, UNE PERTE DE PROFIT, DE RECETTES OU DE DONNÉES, IMPUTABLE À UNE QUELCONQUE INFRACTION À UNE GARANTIE OU CONDITION EXPLICITE OU IMPLICITE, OU SUR LA BASE DE TOUTE AUTRE THÉORIE JURIDIQUE, MÊME SI FITBIT A ÉTÉ AVERTI DE LA POSSIBILITÉ DE LA SURVENUE D'UN TEL PRÉJUDICE. Certaines juridictions n'autorisent pas l'exclusion ou la limitation des dommages spéciaux, indirects, accessoires ou consécutifs; la limitation ou l'exclusion susmentionnée peut donc ne pas vous être applicable.
Droit applicable.
La présente Garantie limitée sera régie par le droit de l'État de Californie aux États-Unis, sans donner effet à ses principes en matière de conflit de lois susceptibles de prévoir l'application des lois d'une autre juridiction.
Droits légaux nationaux.
Dans certaines juridictions, les consommateurs peuvent avoir des droits légaux en vertu de la législation nationale applicable régissant la vente de produits de consommation, y compris, sans s'y restreindre, les lois nationales de transposition de la Directive CE 99/44. Ces droits ne sont pas affectés par les garanties de la présente Garantie limitée.
---
Istruzioni importanti per la sicurezza
Il dispositivo può causare irritazione alla pelle.
Il contatto prolungato può contribuire all'irritazione della pelle o provocare allergie in alcuni utenti. Se si notano dei segni di rossore sulla pelle, gonfiore, prurito o altra irritazione della pelle, interrompere l'uso o interporre una fascia in tessuto tra il prodotto e la pelle. L'uso continuato, persino dopo la diminuzione dei sintomi, può dar luogo a una nuova irritazione o un'irritazione ancora maggiore. Se i sintomi ersistono, consultare un medico.
Seguire questi consigli per l'utilizzo e la conservazione:
Pulire e asciugare il prodotto Fitbit regolarmente, in particolare nelle aree a contatto con la pelle. Usare un panno pulito e umido. Non lavare il prodotto sotto il rubinetto.
Indossare il prodotto Fitbit in maniera sufficientemente comoda per consentire la circolazione dell'aria. Esaminare la guida sulle taglie sul sito fitbit.com per ulteriori informazioni.
Usare i prodotti per la cura della pelle senza eccedere nelle zone della pelle coperte dal prodotto Fitbit.
Togliersi il prodotto di tanto in tanto per pulirlo e consentire di scoprire la pelle.
Il dispositivo contiene apparecchiatura elettrica che potrebbe causare lesioni se non gestita in modo corretta.
Non aprire l'alloggiamento o smontare il prodotto Fitbit.
Non usare il prodotto Fitbit se vi sono crepe nel display.
Le sostanze di questo prodotto e della batteria possono danneggiare l'ambiente o causare lesioni se gestite e smaltite in modo inadeguato.
Non mettere il prodotto Fitbit in una lavastoviglie, lavatrice o asciugatrice.
Non esporre il prodotto Fitbit a temperature estremamente alte o basse.
Non usare il prodotto Fitbit in una sauna o sala vapore.
Non lasciare il prodotto Fitbit alla luce diretta del sole per un periodo di tempo prolungato.
Non smaltire il prodotto Fitbit nel fuoco. La batteria potrebbe esplodere.
Non usare detergenti abrasivi per pulire il prodotto Fitbit.
Caricare la batteria seguendo le istruzioni fornite durante la configurazione.*
Caricare il prodotto Fitbit utilizzando un computer, un hub alimentato o l'alimentazione elettrica certificata da un ente riconosciuto.*
Il prodotto Fitbit dispone di una batteria incorporata, che non è sostituibile dall'utente. Manomettere il prodotto o cercare di aprirlo causerà l'annullamento della garanzia e può dar luogo a un rischio per la sicurezza.*
Usare esclusivamente un cavo di carica Fitbit autorizzato per caricare la batteria.*• Non indossare il prodotto Fitbit durante la carica.*
Non caricare il prodotto Fitbit mentre è bagnato.
Togliersi il prodotto Fitbit se lo si sente tiepido o caldo.
* Questo non riguarda Fitbit Zip, che ha una batteria sostituibile. Non tentare di ricaricare il vostro Zip.
ATTENZIONE: Consultare un medico dopo l'inizio o la modifica di un programma di esercizio.
ATTENZIONE: Consultare il proprio medico prima dell'uso se avete qualunque patologia preesistente su cui potrebbe influire l'uso di questo prodotto Fitbit.
ATTENZIONE: Non controllare le notifiche di chiamata o altri dati visualizzati sul display del prodotto mentre si guida o in altre situazioni in cui distrarsi può risultare pericoloso.
ATTENZIONE: Questo prodotto non è un giocattolo. Non consentire a bambini o animali domestici di giocare con il prodotto Fitbit. Il prodotto contiene componenti di piccole dimensioni che possono causare rischio di soffocamento. Questo prodotto non è un dispositivo medico e non è destinato a diagnosticare, trattare, curare o prevenire malattie. Mappe, direzioni, o altri dati GPS o di navigazione, compresi i dati relativi alla posizione corrente, possono essere non disponibili, non accurati o incompleti. Prima di bagnare il prodotto Fitbit, consultare fitbit.com per informazioni specifiche per quanto riguarda la resistenza all'acqua.
Avviso speciale per i dispositivi dotati di tecnologia PurePulse™: I prodotti PurePulse hanno una funzione di rilevamento della frequenza cardiaca che può porre dei rischi per gli utenti affetti da determinate patologie.
Consultare un medico prima dell'uso se:

si soffre di patologie mediche o cardiache
si assumono farmaci fotosensibili.
si soffre di epilessia o si è sensibili alle luci lampeggianti.
si soffre di problemi di circolazione o ci si causa facilmente edemi.

La funzione di rilevamento della frequenza cardiaca funziona al meglio quando il prodotto è indossato in modo confortevole.

Indossare il prodotto in maniera confortevole può causare un'irritazione della pelle dovuta al suo sfregamento. Rimuovere il dispositivo di tanto in tanto per consentire alla pelle di asciugarsi e respirare.
Se si soffre di tendinite, sindrome del tunnel carpale o altri disturbi muscoloscheletrici, consultare il proprio medico prima dell'uso. Se si avverte dolore, formicolio, torpore, bruciore o rigidità nelle mani o nei polsi durante o dopo aver indossato il prodotto, interromperne l'uso.
Dichiarazione di conformità in merito alla Direttiva UE 1999/5/CE.
Fitbit Inc. è autorizzata ad applicare il Marchio CE sul proprio prodotto, dichiarando così la conformità ai requisiti essenziali e ad altre disposizioni pertinenti della Direttiva UE 1999/5/CE e di altre Direttive applicabili. La Dichiarazione di conformità completa è disponibile alla sezione prodotto specifica al sito fitbit.com/safety.
Garanzia limitata sul prodotto
Fitbit, Inc. ("Fitbit") garantisce all'acquirente originale che il dispositivo elettronico Fitbit (il "Prodotto") sarà privo di difetti di materiali e lavorazione durante l'utilizzo normale per un periodo di un (1) anno dalla data di acquisto, ad eccezione dei residenti nello Spazio Economico Europeo (SEE) per i quali, se hanno acquistato il prodotto Fitbit nello SEE, il periodo di garanzia è di due (2) anni dalla data di acquisto (il "Periodo di garanzia"). Fitbit non garantisce che il funzionamento del Prodotto sarà ininterrotto o privo di errori. Fitbit non è responsabile per i danni causati dall'inosservanza delle istruzioni sull'utilizzo del Prodotto. La presente Garanzia limitata non copre il software incorporato nel Prodotto e i servizi forniti da Fitbit ai proprietari del Prodotto. Si invita a fare riferimento all'accordo di licenza che accompagna il software e ai Termini di utilizzo dei servizi Fitbit per informazioni dettagliate sui propri diritti circa il loro utilizzo.
Rimedi.
In caso di difetto dell'hardware e se Fitbit riceve un valido reclamo entro il Periodo di garanzia, Fitbit provvederà, a sua iscrezione e nella misura consentita dalla legge, (1) a riparare gratuitamente il Prodotto utilizzando pezzi di ricambio nuovi o rimessi a nuovo o (2) a sostituire il Prodotto con un Prodotto nuovo o uno rimesso a nuovo. In caso di difetto, nella misura consentita dalla legge, questi sono gli unici ed esclusivi rimedi a disposizione dell'acquirente. Potrebbero essere applicate le spese di spedizione e di gestione, salvo qualora ciò sia vietato dalla legge applicabile. La presente Garanzia limitata è valida solo nelle giurisdizioni in cui i Prodotti sono venduti da Fitbit o da suoi rivenditori o agenti autorizzati, ed è valida nella misura consentita dalle leggi vigenti di tali giurisdizioni. Il prodotto hardware sostitutivo sarà garantito per il resto del periodo di garanzia originale o per trenta (30) giorni, a seconda di quale sia il periodo più lungo, o per qualsiasi ulteriore periodo applicabile nella propria giurisdizione.
Come ottenere l'assistenza in garanzia. Per ottenere l'assistenza in garanzia, occorre consegnare il Prodotto, nella sua confezione originale o in una confezione che offre lo stesso grado di protezione, all'indirizzo specificato da Fitbit. In conformità con la legge vigente, Fitbit potrà richiedere di fornire le prove dell'acquisto e/o di rispettare i requisiti di registrazione prima di ricevere l'assistenza in garanzia. È responsabilità dell'acquirente eseguire il backup di qualsiasi dato, software o altro materiale che Lei possa aver memorizzato o conservato nel Prodotto. È probabile che tali dati, software o altri materiali andranno persi o riformattati durante l'assistenza e Fitbit non sarà responsabile di eventuali danni o perdite di questo genere. Per istruzioni specifiche su come ottenere l'assistenza in garanzia sul Prodotto, visitare il sito Web di Fitbit (fitbit.com/help).
Esclusioni e limitazioni.
La presente Garanzia limitata è valida solo per il Prodotto fabbricato da o per Fitbit che può essere identificato dal marchio di fabbrica, nome commerciale o logo "Fitbit" a esso affisso. La Garanzia limitata non è valida per (a) prodotti e servizi Fitbit diversi dal Prodotto, (b) prodotto hardware non-Fitbit, (c) prodotti di consumo (come batterie), o (d) software, anche se imballato o venduto con il Prodotto o integrato nel Prodotto. La presente garanzia non è valida per un Prodotto o parte del Prodotto che è stato alterato o modificato (ad es., per alterarne la funzionalità o capacità) da chiunque non sia un rappresentante di Fitbit o se il Prodotto è inserito o installato in un alloggiamento non fornito da Fitbit. Inoltre, la presente Garanzia limitata non è valida: (a) per danni causati dall'uso con prodotti non-Fitbit; (b) per danni causati da incidenti, abuso, uso errato, inondazioni, incendi, terremoti o altre cause esterne; (c) per danni causati dall'utilizzo del Prodotto al di là degli usi consentiti o previsti da Fitbit o con una tensione o alimentazione errate; o (d) per danni causati da assistenza (tra cui aggiornamenti ed espansioni) prestata da persone che non sono rappresentanti di Fitbit. Il recupero e la reinstallazione dei programmi software e dei dati utente non sono coperti da questa Garanzia limitata. Nessun rivenditore, agente o dipendente Fitbit è autorizzato ad apportare modifiche, estensioni o aggiunte alla presente Garanzia limitata. Se uno o più termini sono ritenuti illegali o non applicabili, la legalità o applicabilità dei termini restanti non saranno in alcun modo interessate o pregiudicate.
Garanzie implicite.
FATTO SALVO PER QUANTO PRESCRITTO DALLA LEGGE APPLCABILE, TUTTE LE GARANZIE IMPLICITE (TRA CUI LE GARANZIE DI COMMERCIABILITÀ E IDONEITÀ A UN PARTICOLARE SCOPO) SARANNO LIMITATE ALLA DURATA DI QUESTA GARANZIA LIMITATA. Alcune giurisdizioni non ammettono limitazioni sulla durata di una garanzia implicita, per cui la summenzionata limitazione potrebbe non essere valida nel suo caso.
Limitazione dei danni.
FATTO SALVO PER QUANTO PRESCRITTO DALLA LEGGE APPLICABILE, FITBIT DECLINA OGNI RESPONSABILITÀ PER DANNI INCIDENTALI, INDIRETTI, SPECIALI O CONSEQUENZIALI, TRA CUI, A MERO TITOLO ESEMPLIFICATIVO MA NON ESAUSTIVO, LA PERDITA DI PROFITTI, RICAVI O DATI, DERIVANTI DALLA VIOLAZIONE DI GARANZIE O CONDIZIONI ESPRESSE O IMPLICITE, O DA ALTRA MOTIVAZIONE LEGALE, ANCHE SE FITBIT SIA STATA INFORMATA DELLA POSSIBILITÀ DI TALI DANNI. Alcune giurisdizioni non ammettono l'esclusione o limitazione di danni speciali, indiretti, incidentali o consequenziali, per cui la limitazione di cui sopra potrebbe non essere valida nel suo caso.
Legge applicabile.
La presente Garanzia limitata è soggetta alle leggi dello Stato della California, Stati Uniti d'America, esclusa l'applicazione dei criteri per dirimere i conflitti di legge che possono comportare l'applicazione della legge di un'altra giurisdizione.
Diritti legali nazionali.
I clienti di alcune giurisdizioni possono avere dei diritti legali ai sensi della legislazione nazionale che regola la vendita di beni di consumo, tra cui, a mero titolo esemplificativo ma non esaustivo, le leggi nazionali che recepiscono la Direttiva CE 99/44. Tali diritti non sono interessati dalle garanzie della presente Garanzia limitata.
---
Wichtige Sicherheitshinweise
Das Gerät kann Hautreizungen verursachen.Längerer Kontakt kann bei manchen Benutzern zu Hautreizungen oder Allergien beitragen. Wenn Sie Anzeichen von Hautrötung, Schwellungen, Juckreiz oder anderen Hautreizungen bemerken, stellen Sie die Nutzung bitte ein oder tragen Sie das Produkt über einem Kleidungsstück. Die weitere Nutzung kann, auch nachdem die Symptome zurückgegangen sind, zu erneuten oder verstärkten Hautreizungen führen. Suchen Sie bei anhaltenden Beschwerden bitte Ihren Arzt auf.
Bitte befolgen Sie diese Tipps zur Pflege und zum Tragen des Geräts:
Reinigen und trocknen Sie Ihr Fitbit-Produkt regelmäßig, vor allem an Stellen, die mit der Haut in Berührung kommen. Verwenden Sie dazu ein sauberes, feuchtes Tuch. Reinigen Sie das Produkt nicht unter fließendem Wasser.
Tragen Sie Ihr Fitbit-Produkt locker genug, um Luftzirkulation zu ermöglichen. Der Größenleitfaden unter fitbit.com enthält weitere Informationen.
Verwenden Sie nur kleine Mengen von Hautpflegeprodukten auf den Hautbereichen, an denen Sie Ihr Fitbit-Produkt tragen.
Nehmen Sie das Produkt gelegentlich ab, um es zu reinigen, und lassen Sie Ihre Haut atmen.
Das Gerät enthält elektrische Komponenten, die bei nicht-ordnungsgemäßem Umgang zu Verletzungen führen könnten.
Öffnen Sie das Gehäuse nicht und nehmen Sie Ihr Fitbit-Produkt nicht auseinander.
Verwenden Sie Ihr Fitbit-Produkt nicht, wenn die Anzeige einen Riss aufweist.
Die Substanzen in diesem Produkt und seinen Batterien können der Umwelt schaden oder zu Verletzungen führen, wenn Sie nicht ordnungsgemäß damit umgehen oder sie nicht ordnungsgemäß entsorgen.
Reinigen Sie Ihr Fitbit-Produkt nicht in der Geschirrspülmaschine, der Waschmaschine oder dem Trockner.
Sorgen Sie dafür, dass Ihr Produkt nicht extrem hohen oder niedrigen Temperaturen ausgesetzt wird.
Verwenden Sie Ihr Fitbit-Produkt nicht in der Sauna oder im Dampfbad.
Sorgen Sie dafür, dass Ihr Fitbit-Produkt nicht für einen längeren Zeitraum direkter Sonneneinstrahlung ausgesetzt wird.
Entsorgen Sie Ihr Fitbit-Produkt nicht im Feuer. Die Batterie könnte explodieren.
Verwenden Sie für die Reinigung Ihres Fitbit-Produkts keine aggressiven Scheuermittel.
Laden Sie die Batterie gemäß den bei der Inbetriebnahme gegebenen Hinweisen.*
Laden Sie Ihr Fitbit-Produkt mithilfe eines Computers, eines Hubs oder einer eines Netzteils, der/die von einem anerkannten Testlabor zertifiziert ist.*
Ihr Fitbit-Produkt verfügt über einen integrierten Akku, der nicht vom Benutzer ausgewechselt werden kann. Unbefugte Eingriffe an Ihrem Produkt
er der Versuch, es zu öffnen, zieht das Erlöschen der Gewährleistung nach sich und kann zu einem Sicherheitsrisiko führen.*
Benutzen Sie nur ein von Fitbit autorisiertes Ladekabel, um den Akku zu laden.*
Tragen Sie Ihr Fitbit-Produkt nicht, während Sie es laden.*
Laden Sie Ihr Fitbit-Produkt nicht, wenn es nass ist.
Legen Sie Ihr Fitbit-Produkt ab, wenn es sich warm oder heiß anfühlt.
* Dies gilt nicht für Fitbit Zip, das mit einer austauschbaren Batterie betrieben wird. Versuchen Sie nicht, Ihr Zip wiederaufzuladen.
ACHTUNG: Konsultieren Sie vor Aufnahme oder Änderung eines sportlichen Programms Ihren Arzt.
ACHTUNG: Konsultieren Sie vor der Benutzung Ihren Arzt, wenn Sie an Krankheiten leiden, die von der Verwendung dieses Fitbit-Produkts beeinflusst werden könnten.
ACHTUNG: Lesen Sie keine Anrufmitteilungen oder andere Daten auf der Anzeige des Produkts, während Sie Auto fahren oder in anderen Situationen, in denen Ablenkung gefährlich sein könnte.
ACHTUNG: Das Produkt ist kein Spielzeug. Lassen Sie Kinder oder Tiere nicht mit Ihrem Fitbit-Produkt spielen. Das Produkt enthält Kleinteile, die eine Erstickungsgefahr darstellen könnten.
Es handelt sich bei diesem Produkt nicht um ein medizinisches Gerät, und es ist nicht für die Diagnose, Behandlung, Heilung oder Verhinderung von Krankheiten vorgesehen.
Karten, Wegbeschreibungen und andere GPS- oder Navigationsdaten, einschließlich Daten in Verbindung mit Ihrem aktuellen Standort, können möglicherweise nicht verfügbar, ungenau oder unvollständig sein. Bevor Ihr Fitbit-Produkt mit Feuchtigkeit in Berührung kommt, lesen Sie bitte unter fitbit.com die speziellen Hinweise zur Wasserdichtigkeit.
Besonderer Hinweis für Geräte mit PurePulse™-Technologie: PurePulse-Produkte verfügen über eine Funktion, die die Herzfrequenz misst und die für Benutzer mit bestimmten Krankheiten Risiken darstellen können.
Konsultieren Sie vor der Verwendung Ihren Arzt, wenn Sie:

medizinische Beschwerden oder ein Herzleiden haben
lichtempfindliche Medikamente nehmen
an Epilepsie leiden oder empfindlich auf blinkende Lichter reagieren
an Kreislaufschwäche leiden oder sich leicht Prellungen zuziehen.

Die Messfunktion der Herzfrequenz funktioniert am besten, wenn das Produkt eng anliegt.

Das enge Tragen des Geräts kann jedoch infolge von Reibung und Scheuern zu Hautreizungen führen. Nehmen Sie das Produkt regelmäßig ab, damit Ihre Haut atmen und trocknen kann.
Wenn Sie Sehnenscheidenentzündung, Karpaltunnelsyndrom oder andere Muskel-Skelett-Erkrankungen haben, konsultieren Sie vor der Benutzung Ihren Arzt. Wenn Ihre Hände oder Handgelenke während oder nach dem Tragen des Produkts schmerzen, kribbeln oder brennen oder sich taub oder steif anfühlen, stellen Sie die Verwendung bitte ein.
Konformitätserklärung in Bezug auf EU-Richtlinie 1999/5/EG.
Fitbit Inc. ist autorisiert, seine Produkte mit dem CE-Zeichen zu versehen und somit die Konformität mit den wesentlichen Anforderungen und anderen relevanten Bestimmungen der Richtlinie 1999/5/EG und anderen anwendbaren Richtlinien zu erklären. Die vollständige Konformitätserklärung finden Sie im jeweiligen Produktabschnitt unter fitbit.com/safety.
Beschränkte Produktgewährleistung
Fitbit, Inc. ("Fitbit") sichert dem Erstkäufer zu, dass Ihr Fitbit-Elektrogerät (das "Produkt") bei normaler Verwendung für einen Zeitraum von einem (1) Jahr ab dem Kaufdatum frei von Material- und Herstellungsfehlern ist. Wenn Sie im Europäischen Wirtschaftsraum (EWR) leben und Sie Ihr Fitbit-Produkt im EWR gekauft haben, beträgt der Gewährleistungszeitraum zwei (2) Jahre ab dem Kaufdatum (der "Gewährleistungszeitraum"). Fitbit garantiert nicht den ununterbrochenen oder fehlerfreien Betrieb des Produkts. Fitbit ist nicht für Schäden infolge der Nichtbefolgung der Anweisungen hinsichtlich der Verwendung des Produkts verantwortlich.Diese beschränkte Gewährleistung erstreckt sich nicht auf in dem Produkt integrierte Software und die Dienstleistungen, die Fitbit den Besitzern des Produkts bereitstellt. Die Lizenzvereinbarung, die der Software beiliegt, sowie die Nutzungsbedingungen für Fitbit-Dienstleistungen enthalten Einzelheiten zu Ihren Rechten hinsichtlich ihrer Nutzung.
Rechtsmittel.
Wenn ein Hardwaredefekt vorliegt und innerhalb des Gewährleistungszeitraums gegenüber Fitbit ein gültiger Gewährleistungsanspruch geltend gemacht wird, kann Fitbit nach eigenem Ermessen und im Rahmen geltender Gesetze entweder (1) das Produkt mithilfe neuer oder überholter Ersatzteile kostenlos instandsetzen oder (2) das Produkt durch ein neues oder überholtes Produkt ersetzen. Im Falle eines Defekts sind diese im Rahmen geltender Gesetze Ihre einzigen und ausschließlichen Rechtsmittel. Es können Versand-und Lieferkosten anfallen, es sei denn, solche Kosten sind gemäß geltender Gesetze unzulässig. Diese beschränkte Gewährleistung ist nur in den Rechtsräumen gültig, in denen die Produkte von Fitbit selbst oder durch seine befugten Wiederverkäufer oder -vertreter verkauft werden. Ferner ist sie nur gültig, sofern dies gemäß den geltenden Gesetzen des jeweiligen Rechtsraums zulässig ist. Ersatz-Hardwareprodukte werden für den Restzeitraum des ursprünglichen Gewährleistungszeitraums oder für einen Zeitraum von dreißig (30) Tagen unter Gewährleistung gestellt (der längere Zeitraum ist maßgeblich) bzw. für weitere Zeiträume, die gegebenenfalls in Ihrem Rechtsraum gelten.
Erhalt von Gewährleistungsleistungen.
Um Gewährleistungsleistungen zu erhalten, müssen Sie das Produkt entweder in der Originalverpackung oder in Verpackung, die das gleiche Maß an Schutz bietet, an die von Fitbit angegebene Adresse senden. Gemäß geltender Gesetze kann Fitbit die Vorlage eines Kaufbelegs und/oder die Befolgung von Registrierungsanforderungen verlangen, bevor Sie Gewährleistungsleistungen erhalten. Es ist Ihre Verantwortung, Sicherungskopien von Daten, Software oder anderen Materialien, die Sie auf dem Produkt gespeichert haben oder aufbewahren, anzufertigen. Es ist wahrscheinlich, dass solche Daten, Software oder andere Materialien im Rahmen der Gewährleistungsleistungen verloren gehen oder neu formatiert werden. Für Schäden oder Verluste solcher Art ist Fitbit nicht verantwortlich. Konkrete Anweisungen, wie Sie Gewährleistungsleistungen für Ihr Produkt erhalten können, finden Sie auf der Fitbit-Website (fitbit.com/help).
Ausschlüsse und Beschränkungen.
Diese beschränkte Gewährleistung gilt nur für das Produkt, das von oder für Fitbit gefertigt wurde und das durch die Handelsmarke, den Handelsnamen oder das Logo "Fitbit", die jeweils am Produkt angebracht sind, identifiziert werden kann. Die beschränkte Gewährleistung gilt nicht für (a) andere Fitbit-Produkte und -Dienstleistungen als das Produkt, (b) Nicht-Fitbit-Hardwareprodukte, (c) Verbrauchsgüter (zum Beispiel Batterien) oder (d) Software, auch nicht, wenn zusammen mit dem Produkt verpackt oder verkauft oder im Produkt integriert. Diese Gewährleistung gilt nicht für Produkte oder Teile des Produkts, die von Personen geändert oder modifiziert wurden (z. B., um die Funktionalität oder Fähigkeit zu ändern), bei denen es sich nicht um Vertreter von Fitbit handelt. Die Gewährleistung gilt ebenfalls nicht, wenn das Produkt in ein nicht von Fitbit bereitgestelltes Gehäuse eingesetzt oder integriert wird. Ferner gilt diese beschränkte Gewährleistung nicht: (a) für Schäden, die infolge der Verwendung mit Nicht-Fitbit-Produkten entstanden sind; (b) für Schäden infolge von Unfällen, Missbrauch, Überschwemmung, Feuer, Erdbeben oder anderen externen Ursachen; (c) für Schäden infolge des Betriebs des Produkts außerhalb der von Fitbit beschriebenen beabsichtigen Verwendung oder infolge des Betriebs mit falscher pannung oder Stromversorgung oder (d) für Schäden infolge von Reparaturarbeiten (einschließlich Upgrades und Erweiterungen), die von Personen durchgeführt wurden, bei denen es sich nicht um einen Vertreter von Fitbit handelt. Die Wiederherstellung und erneute Installation von Softwareprogrammen und Benutzerdaten fällt nicht unter diese beschränkte Gewährleistung. Wiederverkäufern, Vertretern oder Mitarbeitern von Fitbit ist es nicht gestattet, Änderungen, Erweiterungen oder Ergänzungen dieser beschränkten Gewährleistung vorzunehmen. Wenn eine Bestimmung als rechtswidrig oder undurchsetzbar befunden wird, bleibt die Rechtmäßigkeit oder Durchsetzbarkeit der restlichen Bestimmungen bestehen
Stillschweigende Gewährleistungen.
SOFERN NICHT GEMÄSS GELTENDER GESETZE UNTERSAGT, SIND ALLE STILLSCHWEIGENDEN GEWÄHRLEISTUNGEN (EINSCHLIESSLICH GEWÄHRLEISTUNGEN HINSICHTLICH DER MARKTGÄNGIGKEIT UND EIGNUNG FÜR EINEN BESTIMMTEN ZWECK) AUF DEN GELTUNGSZEITRAUM DIESER BESCHRÄNKTEN GARANTIE BESCHRÄNKT. In einigen Rechtsräumen sind Beschränkungen der Geltungsdauer von stillschweigenden Gewährleistungen nicht gestattet, sodass obenstehende Beschränkung für Sie möglicherweise nicht maßgeblich ist.
Schadensbegrenzung.
SOFERN NICHT GEMÄSS GELTENDER GESETZE UNTERSAGT, IST FITBIT NICHT FÜR NEBEN-, INDIREKTE, BESONDERE ODER FOLGESCHÄDEN, EINSCHLIESSLICH INSBESONDERE FÜR VERLUST VON GEWINNEN, EINNAHMEN ODER DATEN, INFOLGE VON VERLETZUNGEN VON AUSDRÜCKLICHEN ODER STILLSCHWEIGEN DEN GEWÄHRLEISTUNGEN ODER BEDINGUNGEN ODER GEMÄSS ANDEREN RECHTSTHE ORIEN VERANTWORTLICH, AUCH DANN NICHT, WENN FITBIT ÜBER DIE MÖGLICHKEIT SOLCHER SCHÄDEN INFORMIERT WURDE. In einigen Rechtsräumen ist der Ausschluss oder die Beschränkung von besonderen, indirekten, Neben- oder Folgeschäden nicht zulässig, sodass obenstehende Beschränkung bzw. obenstehender Ausschluss für Sie möglicherweise nicht maßgeblich ist.
Geltendes Recht.
Diese beschränkte Garantie unterliegt den Gesetzen des Bundesstaates Kalifornien, USA, unter Ausschluss seiner kollisionsrechtlichen Bestimmungen, die die Geltung des Gesetzes eines anderen Rechtsraumes vorsehen könnten.
Nationale gesetzliche Rechte.
In einigen Rechtsräumen können Verbraucher gemäß geltenden nationalen Gesetzen, die den Verkauf von Verbrauchsgütern regulieren, gesetzliche Rechte haben, einschließlich ohne Einschränkung nationale Gesetze zur Durchsetzung der Richtlinie 1999/44/EG. Diese Rechte sind von den in dieser beschränkten Garantie enthaltenen Gewährleistungen nicht betroffen.
---
Instrucciones importantes de seguridad
Este dispositivo podría causar irritación en la piel. El contacto prolongado podría causar irritación en la piel o alergias en algunos usuarios. Si observa algún signo de enrojecimiento, inflamación, picor o irritación en la piel, deje de utilizarlo o lleve el dispositivo encima de una prenda. El uso continuado, incluso después de que disminuyan los síntomas, puede volver a producir irritación o aumentarla. Si los síntomas persisten, consulte a su médico.
Tenga en cuenta estos consejos de uso:
Limpie y seque su Fitbit regularmente, sobre todo las áreas que están en contacto con la piel. Utilice un trapo limpio y húmedo. No lave el dispositivo bajo el agua del grifo.>
Lleve el Fitbit lo suficientemente holgado para permitir que el aire circule. Para más información, revise la guía de tallas en fitbit.com.
Utilice con moderación productos para el cuidado de la piel en la zona de la piel cubierta por su Fitbit.
Quítese el dispositivo de vez en cuando para limpiarlo y para que su piel pueda airearse.
El dispositivo contiene un sistema eléctrico que podría causarle daño si no se utiliza adecuadamente.
No abra ni desmonte su Fitbit.
No utilice su Fitbit si la pantalla está agrietada.
Algunas sustancias contenidas en este producto y su batería pueden dañar el medioambiente o causar lesiones si se manipulan o eliminan de manera inadecuada.
No introduzca su Fitbit en lavavajillas, lavadoras o secadoras.
No exponga su Fitbit a temperaturas excesivamente altas o bajas.
No utilice su Fitbit en una sauna o sala de vapor.
No deje su Fitbit a la luz directa del sol durante un periodo de tiempo prolongado.
No elimine su Fitbit tirándolo al fuego. La batería podría explotar.
No utilice limpiadores abrasivos para limpiar su Fitbit.
Cargue la batería según las instrucciones proporcionadas durante la configuración.*
Cargue su Fitbit utilizando un ordenador, un concentrador alimentado eléctricamente o una fuente de energía certificada por un laboratorio de pruebas reconocido.*
Su Fitbit lleva una batería incorporada que no puede ser reemplazada por el usuario. Manipular indebidamente su producto o intentar abrirlo invalidará la garantía y puede entrañar un riesgo para la seguridad.*
Utilice solo un cable autorizado para cargar la batería de su Fitbit.*
No se ponga el Fitbit mientras se está cargando.*
No cargue el Fitbit mientras esté mojado.
Quítese el Fitbit si nota que se está calentando.
* Esto no se aplica a Fitbit Zip, que tiene una batería o pila reemplazable. No intente recargar su Zip.
ATENCIÓN: Consulte a su médico antes de empezar o modificar un programa de ejercicios.
ATENCIÓN: Consulte a su médico antes de utilizarlo si tiene problemas médicos preexistentes que pudieran verse afectados por el uso del Fitbit.
ATENCIÓN: No consulte notificaciones de llamadas u otros datos que aparez- can en la pantalla del dispositivo mientras conduzca o en otras ituaciones en las que las distracciones pudieran ser peligrosas.
ATENCIÓN: Este dispositivo no es un juguete. No deje que ningún niño o animal juegue con su Fitbit. El producto contiene pequeños componentes que pueden suponer un riesgo de asfixia.
Este producto no es un dispositivo médico, y no está pensado para diagnosti car, tratar, curar ni prevenir ninguna enfermedad.
Los mapas, las direcciones y otros datos GPS o de navegación, incluyendo datos relativos a su ubicación actual, pueden no estar disponibles, o ser imprecisos o incompletos.
Antes de mojar su Fitbit, consulte el sitio fitbit.com para obtener información detallada sobre la resistencia del producto al agua.
Los productos PurePulse tienen un sistema de seguimiento del ritmo cardíaco que puede suponer un riesgo para usuarios con ciertos problemas de salud.
Consulte a su médico antes de utilizarlo, si:

tiene un problema de salud o del corazón,
está tomando un medicamento fotosensible,
tiene epilepsia o es sensible a las luces intermitentes,
tiene problemas de circulación o le aparecen hematomas con frecuencia.

El sistema de seguimiento del ritmo cardíaco funciona mejor cuando el dispositivo se lleva ajustado.

Llevar el dispositivo ajustado puede provocar irritación en la piel debido al roce y la fricción. Quítese el dispositivo de vez en cuando para dejar que la piel respire y se seque.
Si sufre tendinitis, síndrome del túnel carpiano o algún otro trastorno musculoesquelético, consulte a su médico antes de utilizarlo. Si siente dolor muscular, hormigueo, entumecimiento, ardor o rigidez en las manos o muñecas después o durante el uso del producto, deje de utilizarlo.
Declaración de Conformidad con respecto a la Directiva 1999/5/CE de la Unión Europea.
Fitbit Inc. está autorizada a aplicar la marca CE (Conformidad Europea) en su producto, declarando por la presente, la conformidad con los requisitos esenciales y otras disposiciones relevantes de la Directiva 1999/5/CE y otras directivas aplicables.La Declaración de Conformidad completa puede encontrarse en la sección específica del producto en fitbit.com/safety.
Garantía limitada del producto
Fitbit, Inc. (en adelante, "Fitbit") garantiza al comprador original que su dispositivo electrónico Fitbit (en adelante, el "Producto") estará libre de defectos materiales o de fabricación en condiciones normales de uso durante un periodo de un (1) años desde la fecha de compra, excepto si reside en el Espacio Económico Europeo (EEE) y ha comprado el dispositivo Fitbit en el EEE, en cuyo caso el periodo de garantía es de dos (2) años desde la fecha de compra (en adelante, el "Periodo de Garantía"). Fitbit no garantiza que el Producto funcione de modo permanente o libre de fallos. Fitbit no se responsabiliza de los daños que puedan sufrirse como resultado de no seguir las instrucciones de uso del Producto. Esta Garantía Limitada no cubre el software integrado en el Producto ni los servicios prestados por Fitbit a los propietarios del Producto. Para más información sobre sus derechos con relación a su uso, consulte el contrato de licencia que acompaña al software y los términos y condiciones de uso de los servicios Fitbit.
Compensaciones.
Si se detecta un defecto en el hardware y se recibe por parte de Fitbit una reclamación válida dentro del Periodo de Garantía, Fitbit, a su criterio exclusivo y en la medida en que la ley lo permita, podrá (1) reparar el Producto sin ningún coste, utilizando partes nuevas o reparadas o (2) sustituir el Producto con un Producto nuevo o reparado. En caso de defecto, en la medida en que la ley lo permita, estas son sus únicas compensaciones. Podrían aplicarse gastos de manipulación y transporte excepto cuando lo prohíba la legislación aplicable. Esta Garantía Limitada es válida única y exclusivamente en las jurisdicciones en las que se venden los Productos por parte de Fitbit o a través de un distribuidor o agente autorizado, y es válida en la medida permitida por la legislación vigente en dichas jurisdicciones. Todo producto de hardware de sustitución tendrá garantía durante el tiempo restante del Periodo de Garantía original, o como mínimo durante treinta (30) días o cualquier periodo de tiempo adicional que sea aplicable en su jurisdicción.
Cómo obtener el servicio de garantía.
Para obtener el servicio de garantía, debe entregar el Producto, en su envoltorio original o en un envoltorio que le proporcione un nivel de protección equivalente, en la dirección especificada por Fitbit. En virtud de la legislación aplicable, Fitbit puede solicitar que usted proporcione comprobantes de compra y/o que cumpla con los requisitos de registro antes de poder disfrutar del servicio de garantía. Es responsabilidad de usted hacer copias de seguridad de datos, software o cualquier otro material que haya guardado o almacenado en el Producto. Es probable que esos datos, software o cualquier otro material se pierdan o se reformateen durante el servicio, y Fitbit no se responsabiliza de su pérdida o alteración. Para leer instrucciones específicas sobre cómo obtener el servicio de garantía de su Producto, visite el sitio web de Fitbit (fitbit.com/help).
Exclusiones y limitaciones.
Esta Garantía Limitada se aplica solo a Productos fabricados por o para Fitbit que puedan identificarse por la marca comercial, el nombre comercial o el logotipo de "Fitbit". La Garantía Limitada no se aplica a ningún (a) producto y servicio Fitbit que no sea el Producto, (b) producto de hardware que no pertenezca a Fitbit, (c) consumibles (como baterías o pilas), o (d) software, aunque haya sido vendido con el Producto o incluido en el Producto. Esta garantía no se aplica a un Producto o parte de un Producto que haya sido alterado o modificado (p. ej., para alterar su funcionalidad o capacidad) por alguien que no represente a Fitbit, o que haya sido introducido o instalado en una carcasa no proporcionada por Fitbit. Además, esta Garantía Limitada no se aplica: (a) a daños causados por su uso con productos que no pertenezcan a Fitbit; (b) a daños causados por accidente, abuso, uso incorrecto, inundación, incendio, terremoto u otras causas externas; (c) a daños causados por utilizar el Producto fuera del uso permitido o para el que ha sido diseñado y descrito por Fitbit o con un voltaje o suministro eléctrico inadecuado; o (d) a daños causados por servicios (incluyendo actualizaciones y ampliaciones) prestados por alguien que no sea representante de Fitbit. La recuperación y reinstalación de programas de software y datos del usuario no están cubiertas por esta Garantía Limitada.Ningún distribuidor, agente o empleado de Fitbit está autorizado para realizar ninguna modificación, ampliación o adición a esta Garantía Limitada. Si alguno de estos términos se considera ilegal o inaplicable, la legalidad y la aplicabilidad del resto de los términos no se verán afectadas o perjudicadas.
Garantías implícitas.
EXCEPTO CUANDO LA LEY APLICABLE LO PROHÍBA, TODAS LAS GARANTÍAS IMPLÍCITAS (INCLUYENDO GARANTÍAS DE COMERCIABILIDAD O IDONEIDAD PARA UN DETERMINADO FIN) ESTARÁN LIMITADAS EN EL TIEMPO A LA VIGENCIA DE ESTA GARANTÍA LIMITADA. Algunas jurisdicciones no permiten limitaciones en la duración de una garantía implícita, por lo que la limitación anterior podría no aplicarse.
Limitación de daños.
EXCEPTO CUANDO LA LEY APLICABLE LO PROHÍBA, FITBIT NO SE RESPONSABILIZARÁ DE NINGÚN DAÑO ACCIDENTAL, INDIRECTO, ESPECIAL O CONSECUENTE, INCLUYENDO, ENTRE OTROS, LA PÉRDIDA DE BENEFICIOS, INGRESOS O INFORMACIÓN COMO RESULTADO DE UN INCUMPLIMIENTO DE UNA GARANTÍA O CONDICIÓN EXPRESA O IMPLÍCITA, O BAJO CUALQUIER OTRA TEORÍA LEGAL, INCLUSO SI FITBIT HA SIDO AVISADA DE LA POSIBILIDAD DE DICHOS DAÑOS. Algunas jurisdicciones no permiten la exclusión o limitación de daños especiales, indirectos, accidentales o consecuentes, por lo que la limitación o exclusión anterior podría no aplicarse.
Legislación aplicable.
Esta Garantía Limitada se rige por las leyes del estado de California, Estados Unidos, excluyéndose la aplicación de los principios de conflicto de leyes que pudieran justificar la aplicación de la ley de otra jurisdicción.
Derecho legales nacionales.
Los consumidores de algunas jurisdicciones pueden tener derechos legales en virtud de legislaciones nacionales vigentes en materia de venta de bienes de consumo, incluyendo, por ejemplo, las leyes nacionales que tengan por objetivo trasponer la Directiva 99/44/CE. Estos derechos no deben verse afectados por las garantías de esta Garantía Limitada.
---
중요 안전 지침
이 장치는 피부 자극을 유발할 수 있습니다.
일부 사용자에게 장기간의 접촉은 피부 자극이나 알레르기를 야기할 수 있습니다. 피부 홍조, 붓기, 가려움증 또는 기타 피부 자극의 징후가 보일 경 우, 사용을 중지하거나 또는 옷 위에 클립으로 고 정하는 제품을 착용하십시오. 증상이 가라앉은 후 에도 계속 사용하면 피부 자극이 새로 생기거나 그 자극이 심해질 수 있습니다. 증상이 지속되면 의사와 상담하십시오.
다음 주의사항 및 착용 방법 안내를 따르십시오:
Fitbit 제품, 특히 피부에 접촉하는 부분을 정기 적으로 닦고 건조시키십시오. 물에 적신 깨끗한 천을 사용하십시오. 수돗물 아래에서 직접 제품 을 세척하지 마십시오.
공기 순환이 될 정도로 느슨하게 Fitbit 제품을 착용합니다. 자세한 내용은 fitbit.com의 크기 조정 가이드를 검토하십시오.
Fitbit 제품이 닿는 피부 부위에 피부관리 제품을 사용하면 알레르기 발응을 줄일 수 있습니다.
수시로 제품을 벗어 세척하고 피부를 제품과.
장치에는 제대로 취급하지 않으면 손상을 초 래할 수 있는 전기 장비가 포함되어 있습니다.
봉입물을 열거나 Fitbit 제품을 분해하지 마십 시오.
디스플레이가 깨진 경우 Fitbit 제품을 사용하 지 마십시오.
본 제품과 배터리 내의 물질은 환경을 훼손할 수 있으며, 부적절하게 취급되거나 폐기될 경우 손 상을 초래할 수 있습니다.
식기 세척기, 세탁기 또는 건조기에 Fitbit 제품 을 넣지 마십시오.
Fitbit 제품을 너무 높거나 낮은 온도에 노출시 키지 마십시오.
사우나 또는 한증막에서 Fitbit 제품을 사용하 지 마십시오.
Fitbit 제품을 오랜 시간 동안 직사광선에 놓아두 지 마십시오.
Fitbit 제품을 불 속에 폐기하지 마십시오. 배터 리가 폭발할 수 있습니다.
초기 설정 시 설명에 따라 배터리를 충전하십 시오.
설정 시 제공되는 지침에 따라 배터리를 충전 하십시오.*
공인 시험 기관에서 인증하는 컴퓨터, 전원 공급 허브 또는 전원 공급 장치를 사용하여 Fitbit 제 품을 충전하십시오.*
Fitbit 제품은 사용자가 교체할 수 없는 내장 배 터리를 가지고 있습니다. 제품을 함부로 변경하 거나 열려고 시도하는 행위는 보증을 무효화시 키고 안전상의 위험을 초래할 수 있습니다. *
배터리를 충전하기 위해서는 오직 공인된 Fitbit 충전 케이블만 사용하십시오.*
충전하면서 Fitbit 제품을 착용하지 마십시오.*
젖은 상태에서 Fitbit 제품을 충전하지 마십시 오.*
제품이 따뜻하거나 뜨거운 느낌이 있는 경우 Fitbit 제품을 제거하십시오.
* 이 사항은 교체용 배터리가 제공되는 Fitbit Zip 에는 적용되지 않습니다. Zip을 다시 충전하려고 하지 마십시오.
주의: 운동 프로그램을 시작하거나 수정하기 전에 의사와 상의 하십시오.
주의: Fitbit 제품 사용에 의해 영향을 받을 수 있 는 질환을 앓고 있는 경우, 사용 전 의사와 상담 하십시오.
주의: 운전 또는 주의가 산만하거나 위험해 질 수 있는 상황에서 제품의 디스플레이에서 알림 또는 데이터를 확인하지 마십시오.
주의: 이 제품은 장난감이 아닙니다. 어린이나 애 완 동물이 Fitbit 제품을 가지고 놀지 않도록 하십 시오. 이 제품은 질식을 일으킬 수 있는 작은 부품 이 포함되어 있습니다.
이 제품은 의료 기기가 아니며, 질병의 진단, 치 료, 치유 또는 예방을 위한 제품이 아닙니다.
지도, 방향 및 사용자의 현재 위치 데이터를 포 함하는 기타 GPS 또는 내비게이션 데이터는 이 용이 불가능하거나, 부정확하거나 불완전할 수 있습니다.
Fitbit 제품을 착용하시기 전에 fitbit.com 에서 방 수에 관한 정보를 알아보시기 바랍니다.
PurePulse 제품은 특정한 건강 상태를 가진 사용자에게 위험을 초래할 수 있는 심장 박 동 추적 기능이 있습니다.
다음의 경우에 해당하면 사용하기 전에 의사와 상담하십시오.

질병이나 심장질환이 있는 경우.
감광성 약물을 복용하고 있는 경우.
간질이 있거나 깜박이는 불빛에 민감한 경우.
혈액순환이 떨어지거나 쉽게 멍이 드는 경우.

제품이 꼭 맞게 착용될 때 심장 박동 추적 기능 이 가장 잘 작동합니다.

본 제품을 꼭 맞게 착용하면 피부에 지속적 으로 마찰을 일으킴으로서 피부 염증이 초래 될 수 있습니다. 피부를 건조시키고 지속적인 마찰에서 쉴 수 있도록 주기적으로 제품을 벗 으십시오.
건염, 수근관 증후군 또는 기타 근골격계 질환 이 있으시면, 사용하기 전에 의사와 상담하시 기 바랍니다. 제품을 착용하는 동안 또는 후 에 손 또는 손목이 쓰라리거나, 따끔거리거 나, 저리거나, 아리거나, 결릴 경우, 사용을 중 단하십시오.
제품 제한 보증
Fitbit Inc.(이하 "Fitbit")는 Fitbit 전자 장치(이 하 "제품")가 정상적인 사용 조건 하에서 재료 및 기술상 결함이 없음을 구입일로부터 일(1)년간 최초 구입자에게 보증합니다. 그러나 귀하가 유럽 경제지역(EEA)에 거주하고 EEA에서 Fitbit 제품 을 구입한 경우, 보증기간은 구입일로부터 이(2) 년 동안입니다(이하 "보증기간"). Fitbit은 제품의 작동이 중단되지 않거나 오류가 없을 것이라고 보증하지 않습니다. Fitbit은 제품 의 사용과 관련된 지침을 따르지 않아서 발생하는 손해에 대해서는 책임을 지지 않습니다. 본 제한 보증은 제품에 포함된 소프트웨어와 Fitbit이 제품의 소유자에게 제공하는 서비스에는 적용되지 않습니다. 이들의 사용권에 대한 자세한 내용은 소프트웨어와 함께 제공되는 라이선스 계 약 및 Fitbit 서비스 이용 약관을 참조하십시오.
구제
Fitbit이 보증기간 내에 발생한 하드웨어의 결함 에 대한 유효한 청구를 접수하는 경우, Fitbit은 자 체 재량에 따라 그리고 법이 허용하는 한도 내에 서 (1) 신규 또는 수리한 교체 부품을 사용하여 해 당 제품을 무료로 수리하거나, 또는 (2) 해당 제품 을 신규 또는 수리한 제품으로 교체할 수 있습니 다. 결함이 있는 경우, 이것이 법이 허용하는 한, 귀하의 유일한 구제 방법입니다. 관련 법률에 따 라 금지된 경우를 제외하고, 배송 및 취급 비용이 부과될 수 있습니다. 본 제한 보증은 제품이 Fitbit 에 의해 직접 또는 그 공인 재판매업체나 대리점 을 통해 판매되는 관할 지역에서만 유효하고, 당 해 관할 지역의 해당 법률이 허용하는 범위 내에 서 유효합니다. 모든 교체 하드웨어 제품은 원래 보증 기간의 나머지 기간 또는 삼십(30)일 중에서 더 긴 기간, 또는 귀하의 관할 지역에서 적용될 수 있는 추가 기간 동안 보증됩니다.
보증 서비스를 받는 방법
보증 서비스를 받으려면, 귀하는 Fitbit이 지정한 주소로 원래의 포장재로 또는 동일한 수준의 보 호를 제공하는 포장재로 포장해서 제품을 인도해 야 합니다. 해당 법률에 따라, Fitbit은 귀하가 보 증 서비스를 받기 전에 구매 증거에 대한 자세한 내용을 제공하고/하거나 등록 요건을 준수할 것을 요구할 수 있습니다. 귀하가 제품에 저장하거나 보존했을 수 있는 데이터, 소프트웨어 또는 기타 자료를 백업하는 것은 귀하의 책임입니다. 수리 서비스 중에 당해 데이터, 소프트웨어 또는 기타 자료가 손실 또는 재포맷될 수 있으며, Fitbit은 이 러한 손해 또는 손실에 대해 책임을 지지 않습니 다. 제품의 보증 서비스를 받는 방법에 관한 구체 적인 지침은 Fitbit의 웹 사이트 (fitbit.com/help) 에서 확인하십시오.
Cómo obtener el servicio de garantía.
본 제한 보증은 제품에 부착된 "Fitbit" 상표, 상 호 또는 로고를 통해 확인할 수 있는 Fitbit이 제조 하거나 Fitbit을 위해 제조된 제품에만 적용됩니 다. 제한 보증은 제품과 함께 포장 또는 판매되거 나 제품에 내장된 경우라도, (a) 해당 제품 이외의 Fitbit 제품 및 서비스, (b) 비 Fitbit 하드웨어 제 품, (c) 소모품(예: 배터리), 또는 (d) 소프트웨어 에는 일체 적용되지 않습니다.
본 보증은 Fitbit의 대리인이 아닌 타인에 의해 변 경 또는 수정(예: 기능이나 성능의 변경을 위해) 된 제품 또는 제품의 부품에는 적용되지 않으며, 또한 해당 제품이 Fitbit이 제공하지 않은 케이스 에 삽입되거나 설치된 경우에도 적용되지 않습니 다. 또한, 본 제한 보증은 다음 사항에 대해 적용 되지 않습니다. (a) 비 Fitbit 제품과 함께 사용하여 초래된 손해; (b) 사고, 남용, 오용, 홍수, 화 재, 지진 또는 기타 외부 원인으로 인한 손해; (c) Fitbit이 규정한 허용되거나 의도된 사용을 벗어난 제품의 작동으로 또는 부적절한 전압 또는 전원 공급장치로 야기된 손해; 또는 (d) Fitbit의 대리 인이 아닌 타인에 의해 수행된 서비스(업그레이드 와 확장 포함)로 인한 손해. 소프트웨어 프로그램 과 사용자 데이터의 복구 및 재설치는 본 제한 보 증의 범위에 포함되지 않습니다.
Fitbit의 재판매업체, 대리인 또는 직원 어느 누 구도 본 제한 보증을 수정하거나, 연장 또는 추 가할 권한이 없습니다. 어떤 조항이 불법 또는 집 행 불능으로 판정된 경우에도, 나머지 조항의 적 법성이나 집행 가능성은 영향을 받거나 훼손되 지 않습니다.
묵시적 보증
관련 법률에 따라 특별히 금지된 경우를 제외하 고, 모든 묵시적 보증(상품성 및 특정 목적에의 적 합성 포함) 기간은 본 제한 보증기간으로 제한됩 니다. 일부 관할 지역에서는 묵시적 보증의 기간 제한을 허용하지 않으므로, 위의 제한이 적용되지 않을 수 있습니다.
손해의 제한
관련 법률에 따라 특별히 금지된 경우를 제외하 고, FITBIT은 명시적 또는 묵시적 보증이나 조 건의 위반으로 인해 또는 기타 어떠한 법 이론에 서 발생하는, 수익, 매출 또는 데이터의 손실을 포함하되 이에 국한되지 않고 모든 부수적, 간접 적, 특별한, 또는 결과적 손해에 대해 책임을 지 지 않습니다. FITBIT이 당해 손해의 가능성을 통 지 받은 경우에도 마찬가지입니다. 일부 관할 지 역에서는 특별한, 간접적, 부수적 또는 결과적인 손해에 대한 책임의 배제 또는 제한을 허용하 지 않으므로, 위의 제한이나 배제가 적용되지 않 을 수 있습니다.
준거법
본 제한 보증은 미국 캘리포니아주의 법이 적용되 며, 다른 관할지역의 법 적용을 규정할 수 있는 섭 외사법 원칙에 영향을 주지 않습니다.
국가의 성문법상 권리
일부 관할 지역의 소비자는 소비재의 판매에 적용 되는 해당 국가의 법령에 따른 법적 권리를 가질 수 있으며, 여기에는 EC 지침 99/44를 이행하는 각국의 법이 포함되나 이에 국한되지 않습니다. 이러한 권리는 이 제한 보증서 상의 보증에 의해 영향을 받지 않습니다.
---
機器により皮膚に炎症が起こることがあります。
이 장치는 피부 자극을 유발할 수 있습니다.
長時間にわたる接触により、ユーザーによっては皮膚 に炎症やアレルギー症状が起こる場合があります。皮 膚の赤み、腫れ、かゆみ、その他の皮膚炎症の兆候が 見られた場合は、製品の使用をやめるか、または衣類 の上から着用してください。症状が軽減した後でも、 使用を継続すると再び炎症が起きたり、炎症がひどく なったりする場合があります。症状が長引く場合は、 医師に相談してください。
以下の注意事項と着用のアドバイスに従ってくだ さい。
Fitbit製品は、特に皮膚に接触する部分を、常に清潔かつ乾いた状態にしておいてください。清潔で湿 った布を使用してください。蛇口の下で製品を洗わ ないようにしてください。
空気が通うよう、Fitbit製品は緩く着用してくださ い。詳細については、www.fitbit.comにあるサイズ に関するガイドをご覧ください。
スキンケア製品を使用する場合は、Fitbit製品と接 触する皮膚の部分では、控えめに使用してください。
製品を時々はずして、クリーニングし、皮膚を外気に さらしてください。
機器には、適切に取り扱わないとけがの原因と なる電気装置が組み込まれています。
Fitbit製品をこじ開けたり、解体したりしないでく ださい。
表示画面にひびが入っている場合は、Fitbit製品を 使用しないでください。
本製品や電池に使われている物質は、不適切に取 り扱ったり廃棄した場合、環境に悪影響を与えた り、けがの原因となったりすることがあります。
Fitbit製品を皿洗い機、洗濯機、または乾燥機に入 れないでください。
Fitbit製品を極端な高温または低温にさらさない でください。
Fitbit製品をサウナやスチームバスで使用しない でください。
Fitbit製品を長時間、直射日光にさらさないでく ださい。
Fitbit製品を火の中に捨てないでください。電池が 爆発する恐れがあります。
Fitbit製品を拭く際は、研磨剤入りクリーナーを使 用しないでください。
電池は、設定中に与えられる指示に従って充電し てください。*
Fitbit製品は、コンピュータ、電力ハブ、または公認 のテストラボにより認定された電力供給装置を使っ て充電してください。
Fitbit製品には電池が内蔵されており、ユーザー が交換することはできません。製品にみだりに手 を加えたり、製品をこじ開けようとしたりすると、 保証が無効となり、安全上の危険が生じることが あります。*
電池を充電する際は、認可されたFitbit充電ケーブ ルのみを使用してください。*
充電中にFitbit製品を着用しないでください。*
濡れている状態でFitbit製品を充電しないでく ださい。
Fitbit製品が暖かい、または熱く感じられたら、は ずしてください。
* れは、交換可能な電池を使用しているFitbit Zip には適用されません。Zipを再充電しようとしない でください。
注意: どのような運動プログラムも、開始または変更 する前に医師に相談してください。
注意: 本Fitbit製品を使うことで影響を受ける可能 性のある既往症がある場合は、使用前に医師に相談 してください。
注意: 運転中、または注意散漫になると危険が生じ得 る状況において、製品の画面に表示される着信通知、 またはその他のデータをチェックしないでください。
注意: 本製品は玩具ではありません。子供やペットをFitbitで遊ばせないでください。製品には、窒息の危 険のある小さな部品が含まれています。
本製品は医療機器ではなく、病気の診断、処置、治 療、または予防を意図したものではありません。
ユーザーの現在地に関するデータを含む、地図、道 順、およびその他のGPSまたはナビゲーションデー タは、利用不能、不正確、または不完全である場合 があります。
Fitbit製品を濡らす前に、fitbit.comで耐水性に関 する詳細情報を参照してください。
PurePulseの製品には、ある種の健康 状態のユーザーに危険をもたらしうる心拍モニター 機能が付いています。
ください。
以下のような場合には、使用前に医師に相談して ください。

医学的な問題、または心臓に問題がある
光感受性の薬剤を服用している
てんかんがある、または点滅光に敏感である
容易に血液循環が低下する、またはあざがで きやすい

心拍モニター機能は、製品をぴったり着用すると最 もよく機能します。

製品をぴったり着用すると、擦れや摩擦により 皮膚の炎症を起こすことがあります。機器を時 々はずして、腕回りを空気にさらして乾かして ください。
腱炎、手根管症候群、その他の筋骨格疾患があ る場合は、使用前に医師に相談してください。製 品の着用中または着用後に、手または手首に痛 み、うずき、しびれ、ヒリヒリ感、またはこわばりが ある場合は、使用を中止してください。
限定製品保証
Fitbit, Inc(.「Fitbit」)は当初購入者に対し、当該 Fitbitの電子機器(「製品」)が通常の使用方法では、 購入日から1年間、材質および仕上がりに欠陥がな いことを保証します。ただし、購入者がEEA(欧州経 済地域)に居住し、かつFitbit製品をEEA内で購入 した場合、保証期間は購入日から2年間となります( 「保証期間」)。 Fitbitは、製品が連続的に、またはエラーなく動作す ることを保証しません。Fitbitは、製品使用に関する 指示に従わなかったために発生した損傷に対しては 責任を負いません。 製品に組み込まれたソフトウェアおよび、Fitbitが製 品の所有者に提供したサービスは、本限定保証の対 象となりません。ソフトウェアおよびサービスの使用 に関するあなたの権利の詳細については、ソフトウェ アに添付されたライセンス契約、ならびに使用に関す るFitbitサービス条件を参照してください。
救済措置
ハードウェアに欠陥が生じ、Fitbitが保証期間中に有 効なクレームを受け取った場合、Fitbitは独自の選択 により、また法律で認められる範囲内で(、1)新しい、 もしくは修理した交換部品を使用して当該製品を無 料で修理するか、または(2)当該製品を、新品もしく はリファビッシュ品と取り替えます。欠陥があった場合、法律で認められる範囲内で、これらは、あなたに 与えられる唯一独占的な救済措置です。適用法で禁 止されている場合を除き、送料および手数料が適用 されることがあります。本限定保証は、製品がFitbit、 またはFitbitの認定再販業者もしくは代理店を通し て販売された司法管轄区域内においてのみ有効で、 かつ当該司法管轄区域の適用法で認められる範囲 内で有効です。交換したハードウェア製品の保証期 間は、当初の保証期間の残りの期間もしくは30日間 のいずれかの長い方、または当該司法管轄区域で適 用され得る追加期間となります。
保証サービスを受ける方法
保証サービスを受けるには、当初の梱包、またはそれ と同程度の保護を与える梱包により、Fitbitが指定 する住所まで製品を届けなければなりません。適用 法に基づき、Fitbitは、保証サービスを受ける前に購 入詳細証明書の提出、および/または登録要件に従 うことを要請する場合があります。製品上に保存もし くは記憶させてあるデータ、ソフトウェア、またはその 他のマテリアルのバックアップをするのは、あなたの 責任です。多くの場合、そのようなデータ、ソフトウェ ア、またはその他のマテリアルがサービス中に失われ たり再フォーマットされたりしますが、Fitbitは、その ような損害または損失に対して一切責任を負いませ ん。製品に対する保証サービスを受けるための詳し い指示説明については、Fitbitのウェブサイト(fitbit.com/help) を参照してください。
免責および制限
本限定保証は、製品上で「Fitbit」の商標、商号、ある いはロゴとして識別できる、Fitbitによって、あるいは Fitbitために製造された製品のみに適用されます。本 限定保証は(、a)本製品以外のFitbitの製品およびサービス(、b)Fitbit以外のハードウェア製品(、c)消耗 品(電池など)、または(d)ソフトウェアに対しては適 用されず、それらが本製品とともに梱包または販売さ れた場合でも、もしくは本製品に内蔵された場合で も適用されません。 本保証は、製品または製品の部品がFitbitを代表し ない者により改造もしくは変更された場合(機能や 性能の変更など)、またはFitbitが提供したものでは ないケースに挿入もしくは取り付けられた場合には 適用されません。さらに、下記の事項に該当する場 合は、本限定保証の対象にはなりません(。a)Fitbit 以外の製品と一緒に使用したことによる損傷(、b) 事故、乱用、誤用、洪水、火災、地震、もしくはその他 の外的要因による損傷(、c)Fitbitによる使用説明で 認められる用途もしくは目的の用途の範囲を超えて 製品を操作したこと、または不適切な電圧や電力供 給による損傷、または(d)Fitbitを代表しない者が行 ったサービス(アップグレードおよび拡大を含む)に よる損傷。ソフトウェアプログラムとユーザーデータ の回復および再インストールは、本限定保証の対象 外となります。 Fitbitの再販業者、代理店、従業員が、本限定保証を 修正、拡張、または追加することは認められていませ ん。いずれかの条項が違法または法的強制力がない と見なされ場合でも、他の条項の合法性または法的 強制力は、それによって影響を受けたり損なわれたり しないものとします。
黙示の保証
適用法により禁止される範囲を除き、すべての黙示 保証(市販性および特定目的適合性の保証を含む) は、本限定保証書の定める期間に制限されるものと します。司法管轄区域によっては黙示保証期間の制限を許可していないため、上記の制限が適用されな い場合があります。
損害の制限
適用法により禁止される範囲を除き、FITBITは、明 示的または黙示的な保証もしくは条件に対する違 反、または、その他の法的理論に基づく違反から発 生した利益損失、収益損失もしくはデータ損失など を含む(ただし、これらに限定されません)、いかなる 偶発的、間接的、特別的、または派生的損害に対し ても一切責任を負わないものとします。なお本条項 は、FITBITがそのような損害が発生する可能性につ いて事前に助言を受けていた場合にも適用されま す。司法管轄区域によっては、特別的、間接的、偶発 的、または派生的損害の除外または制限を許可して いないため、上記の制限または除外が適用されない 場合があります。
準拠法
本限定保証は、米国カルフォルニア州の法律に準拠 するものとし、他の司法管轄区域の法律の適用を可 能にする抵触法の原則に影響を与えることなく準拠 するものとします。
国別の法的権利
一定の司法管轄区域の消費者は、消費財販売を統 治する国の適用法の下で法的権利を与えられている 場合があります。それには指令99/44/ECを執行す る国内法令が含まれますが、それに限定されません。 これらの権利は、本限定保証にある保証事項による 影響を受けません。
---
重要安全說明
過長時間接觸可能會使部分使用者出現皮膚不適或 過敏。如您出現任何皮膚發紅、腫脹、發癢或其他 皮膚不適跡象,請中止使用或夾在衣服上佩戴。症 狀消退後,繼續使用可能導致皮膚再次出現不適或 不適程度加重。如症狀持續,請諮詢您的醫生。
請遵循下述護理和佩戴提示:
定期清洗並擦幹您的 Fitbit 產品,尤其是與 皮膚接觸處。使用乾淨的濕布。切勿在水龍頭 下清洗。
寬鬆地佩戴您的 Fitbit 產品,以留出足夠的空 間便於空氣流通。請檢閱 fitbit.com 所載大小 調整指南,瞭解更多資訊。
在被 Fitbit 產品覆蓋的皮膚部位塗抹少量護 膚產品。
不時取下產品以清洗產品並讓皮膚透氣。
裝置包括電子設備,而此設備在未獲恰當處理 時可能會導致受傷。
切勿打開外殼或拆開您的 Fitbit 產品。
切勿在顯示器破裂的情況下使用您的 Fitbit 產品。
若處理及處置不當,本產品中的物質和其電池可 能會危害環境或導致受傷。
切勿將您的 Fitbit 產品放入洗碗機、洗衣機 或烘乾機。
切勿將您的 Fitbit 產品置於極高或極低的溫 度下。
切勿在桑拿或蒸汽浴室內使用您的 Fitbit 產 品。
切勿將您的 Fitbit 產品長時間置於陽光直 射下。
切勿將您的 Fitbit 產品置於火中。電池可能 會爆炸。
切勿使用擦洗劑清洗您的 Fitbit 產品。
使用電腦、供電集線器或電源(經獲認可的測試 實驗室認證)給您的 Fitbit 產品充電。*
您的 Fitbit 產品裝配有使用者不可更換的內置 電池。擅自改動您的產品或試圖打開產品的行為 將會使擔保無效,並可能導致安全危害。*
僅可使用經授權的 Fitbit 充電電纜給電池 充電。*
切勿在充電時佩戴您的 Fitbit 產品。*
切勿在您的 Fitbit 產品未完全幹的情況下 充電。
Fitbit 產品的溫度上升或過熱時,請將其移 開。帶有
* 的提示不適用於配有可更換電池的 Fitbit Zip。切勿試圖給您的 Zip 重新充電。
注意: 開始或修改任何鍛煉計劃前,請諮詢您的 醫生。
注意: 如果使用本 Fitbit 產品可能影響您已患有 的疾病,請在使用前諮詢您的醫生。
注意: 切勿在駕車時或注意力渙散可能帶來危險的 情況下查看產品顯示器上的來電通知或其他資料。
注意: 本產品並非玩具。切勿讓小童或寵物把玩 您的 Fitbit 產品。產品包括可造成窒息危險的 小組件。
本產品並非醫療器材,且並不旨在用於診斷、治 療、治癒或預防任何疾病。
地圖、方位指示和其他 GPS 或導覽資料(包括 關於您當前位置的資料)可能不可用、不準確或 不完整。
在您的 Fitbit 產品沾水前,請瀏覽 fitbit. com,瞭解有關防水的具體資訊。
PurePulse 產品具有心率追蹤功能,可能會給 患有某些疾病的使用者帶來風險。
如您有下述情況,請在使用前諮詢您的醫生:

有醫學或心臟疾病
正在服用任何光敏藥物。
有癲癇或對閃光敏感。
血液循環降低或容易瘀傷。

貼身佩戴產品可使心率追蹤功能得到最佳發 揮。

貼身佩戴裝置可導致皮膚因摩擦而產生不 適。定期取下裝置,讓您的皮膚風乾透氣、自由 呼吸。
如您有肌腱炎、腕管綜合症,或其他肌骨失 常,請在使用前諮詢您的醫生。如您在佩戴產品時 或之後感覺手或手腕疼痛、刺痛、麻木、發燙或僵 硬,請中止使用。
有限產品擔保
Fitbit, Inc.(「Fitbit」)向原始買方擔保,自 購買之日起一 (1) 年內,您的 Fitbit 電子裝置 (「產品」)在正常使用的情況下不會存在材料和 工藝方面的缺陷,但如您居住在歐洲經濟區 (EEA) 且您在 EEA 購買您的 Fitbit 產品,則擔保期限 為自購買之日起兩 (2) 年(「擔保期限」)。 Fitbit 概不擔保產品可不間斷或無錯運行。 Fitbit 概不對因未能遵守產品使用相關說明所引 起的損害負責。 本有限擔保不涵蓋產品搭載之軟件以及 Fitbit 向 產品擁有者提供之服務。 請參閱軟件隨附之許可 協議及 Fitbit 服務使用條款,以瞭解您在其使用 方面的權利詳情。
補救措施
如出現硬件缺陷且 Fitbit 在擔保期限內收到有 效索償,Fitbit 將在法律允許的範圍內自行選擇 (1) 使用新或翻新備件免費維修產品,或 (2) 用 新或翻新產品更換原產品。 如出現缺陷,在法律 允許的範圍內,這些是您唯一及獨有之補救措施。 可能會收取運輸和處理費(適用法律禁止者除外) 。 本有限擔保僅在由 Fitbit 自身或透過其授權 分銷商或代理商出售產品的司法管轄區有效,且在 該等司法管轄區適用法律允許的範圍內有效。 任 何更換的硬件產品將在原擔保期限餘下時間內或三 十 (30) 天內(以較長者為準),或在您司法管轄 區可能適用的任何其他時間期限內獲得擔保。
如何獲得擔保服務
若要獲得擔保服務,您必須以其原有包裝或具同 等程度保護的包裝將產品遞送至 Fitbit 指明的地址。 根據適用法律,Fitbit 可要求您在接受 擔保服務前提供購買詳情證明和/或遵守登記要 求。 您有責任備份您可能已在產品上儲存或保留 的任何資料、軟件或其他材料。 該等資料、軟件 或其他材料有可能將在服務期間丟失或被重新格式 化,Fitbit 概不對任何該等損害或損失負責。 欲 知關於如何取得您產品的擔保服務的特定說明,請 瀏覽 Fitbit 網站 (fitbit.com/help)。
排除和限制
本有限擔保僅適用於由 Fitbit 或為 Fitbit 製造 的產品,而此產品可透過附於其上的「Fitbit」 商標、商品名或標識予以識別。 有限擔保不適用 於任何 (a) 除產品外的 Fitbit 產品和服務,(b) 非 Fitbit 硬件產品,(c) 消耗品(比如電池), 或 (d) 軟件(即便是與產品一起包裝或出售,或 產品所搭載之軟件)。 本擔保不適用於已由非 Fitbit 代表的任何人更改 或修改(例如,更改功能或性能)的產品或產品部 件,或如產品已被插入或安裝於盒套內,但盒套 並非由 Fitbit 提供,則本擔保同樣不適用。 此 外,本有限擔保不適用於: (a) 與非 Fitbit 產 品一同使用而導致的損害;(b) 因事故、濫用、誤 用、洪水、火災、地震或其他外部原因導致的損 害;(c) 以 Fitbit 允許和擬定用途範圍之外的方 式或採用不當的電壓或電源操作產品而導致的損 害;或 (d) 由非 Fitbit 代表的任何人提供的服 務(包括升級和擴充)導致的損害。 本有限擔保 未涵蓋復原和重新安裝軟件程式和使用者資料。 Fitbit 分銷商、代理商或僱員均無權對本有限擔 保作出任何修改、延期或添加。 如任何條款被認 定屬非法或不可強制執行,則餘下條款之合法性或 可強制執行性不會受到影響或損害。
默示擔保
除適用法律禁止的情形外,所有默示擔保(包括適 銷性和符合特定用途的擔保)期限不超過本有限擔 保期限。 部分司法管轄區不准許限制默示擔保期 限,因此上述限制可能不適用於您。
損害限制
除適用法律禁止的情形外,FITBIT 概不對因任何 違反明示或默示擔保或條件的行為而產生的或在任 何其他法律理論下的任何附帶、間接、特殊或隨之 發生的損害(包括但不限於利潤、收入或資料損 失)負責,即便 FITBIT 已獲知存在該損害的可能 性。 部分司法管轄區不准許排除或限制特殊、間 接、附帶或隨之發生的損害,因此上述限制或排除 可能不適用於您。
管轄法律
本有限擔保應受美國加利福尼亞州法律管轄,不 考慮可提供其他司法管轄區法律應用的任何法律 衝突原則。
國家法定權利
部分司法管轄區的消費者可能在管轄消費品銷售的 適用國家立法下擁有法定權利,包括但不限於實施 歐盟指令 99/44 的國家法律。 這些權利概不受本 有限擔保中的擔保所影響。
Download the CE Declaration of Conformity for Fitbit One
Download the CE Declaration of Conformity for Fitbit Dongle
Download the CE Declaration of Conformity for Fitbit Aria
Download the CE Declaration of Conformity for Fitbit Zip
Download the CE Declaration of Conformity for Fitbit Flex
Download the CE Declaration of Conformity for Fitbit Force
Download the CE Declaration of Conformity for Fitbit Charge
Download the CE Declaration of Conformity for Fitbit ChargeHR