Skin Sensitivity Notice
A small percentage of Fitbit Force users have reported skin redness, swelling, itchiness or other skin irritations. If you experience these symptoms, please discontinue use. If symptoms persist, see a physician. For more information, please visit our FAQ or contact force@fitbit.com.
TRACK YOUR DAILY
ACTIVITY AND SLEEP
Track steps, distance, calories
burned, stairs, active minutes
and sleep
WIRELESS AND AUTOMATIC
SYNCING
Force uses Bluetooth 4.0
to sync to your computer
and iPhone or Android Smartphone
SEE REAL-TIME PROGRESS
ACROSS DEVICES
See daily stats on your wrist and
watch progress over time with
graphs and charts
BEAT YOUR GOALS
Set daily goals and see your
progress, earn badges,
and challenge friends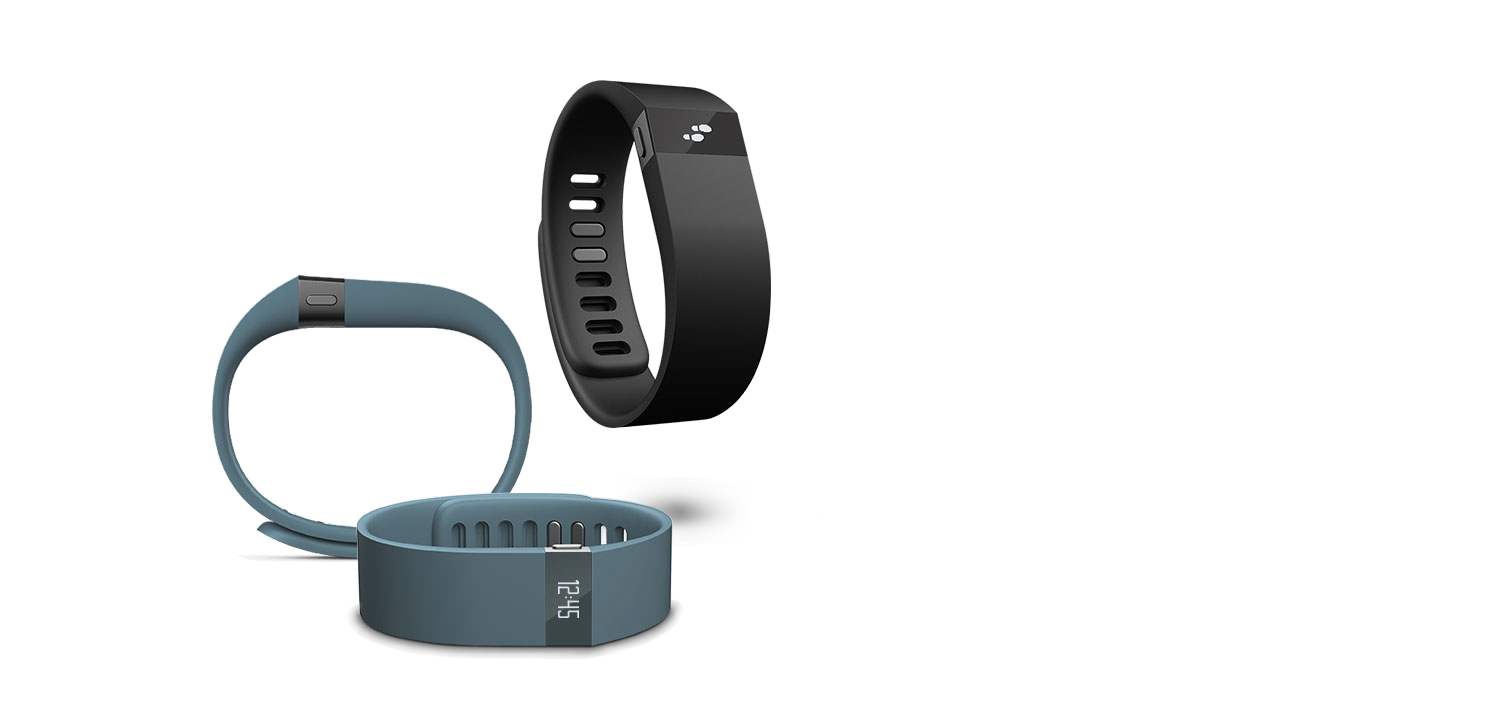 Track it. See it. Beat it
Force gives you instant access to up-to-the-minute stats through the OLED display. With fitness stats right on your wrist, you don't have to look far for motivation to keep moving.
Force tracks:
Steps taken
Stairs climbed
Distance traveled
Calories burned
Active minutes
Hours slept
Quality of sleep
Silent wake alarm
Time
Call notifications
(coming soon)
Our leading-edge accelerometer and altimeter use advanced technology to track your unique, personal data — reflecting your stats, not any average Joe's.
Sleep well.
Wake peacefully
Wear this comfortable wristband overnight to track how long and how well you sleep. Then wake up peacefully with Silent Wake technology, a vibrating alarm that wakes you at your desired time without disturbing your partner. Use online charts of your sleep patterns over time to learn how to get a better night's sleep.
At night, Force tracks:


In the morning, it:


How long and how
well you sleep
Wakes you with
a silent alarm
How many times
you wake up
Won't bother
your partner
So comfy, you'll forget it's there
Force was designed with comfort in mind. It's with you day and night and is so comfortable you'll forget it's on.
Comfortable design
With you all the time
Water-resistant
Syncs wirelessly, automatically to more devices
Say goodbye to pesky wires; Fitbit offers the only trackers that sync wirelessly and automatically in the background through Bluetooth 4.0. Force syncs with your computer, iPhone and select Android devices. With select NFC-enabled Android phones, just tap your device to magically launch the app.
Wireless
Sync
BLUETOOTH 4.0
Works with Mac OSX and Windows
DOES FORCE SYNC WITH YOUR PHONE?
WIRELESS SYNC
Connect to any computer with Fitbit's wireless sync dongle (included). Sync occurs automatically when your tracker is within 20 feet of a dongle.
Works with Mac OSX and Windows
BLUETOOTH 4.0
Fitbit's trackers are the first all-day activity trackers to offer Bluetooth 4.0 connectivity, delivering real-time stats without sapping your phone's battery. Force will sync without you doing a thing.
DOES FORCE SYNC WITH YOUR PHONE?
CALL NOTIFICATIONS COMING SOON
As part of an upcoming firmware update, with iOS 7 on your iPhone 4S and later, you can choose to receive incoming call notifications right on your wrist when your phone is nearby.
Track your fitness trends on your personal dashboard
Take advantage of an arsenal of free online and mobile tools. Set goals on your personal dashboard and track your progress over time through easy-to-read graphs and charts. Use the Fitbit App for iPhone and Android to motivate yourself to reach your daily and long-term targets.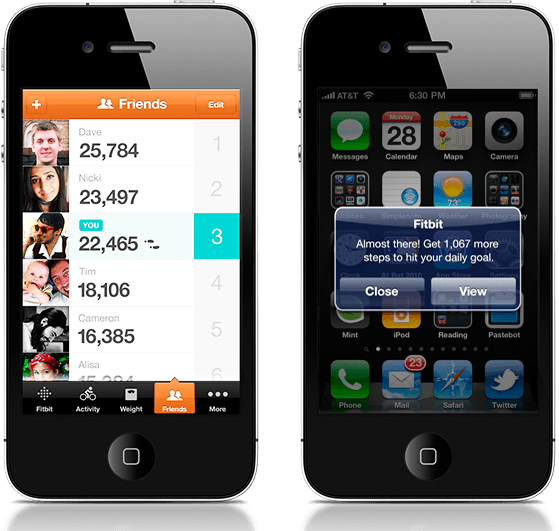 Challenge your friends on the leaderboard
Stay motivated with push notifications
Badges, notifications and social tools
to reach your goals faster
Friends and family will help keep you motivated. Stoke the competition by sending direct messages. A little friendly rivalry can be just the thing to keep you on your toes.


Daily steps
achievements


Lifetime distance
achievements


Daily climb
achievements
Plays well with
other apps
Fitness can be influenced by a variety of exercise and nutrition factors. Sync your stats with several other popular apps for seamless integration across your favorite health and fitness platforms.
VISIT THE APP GALLERY